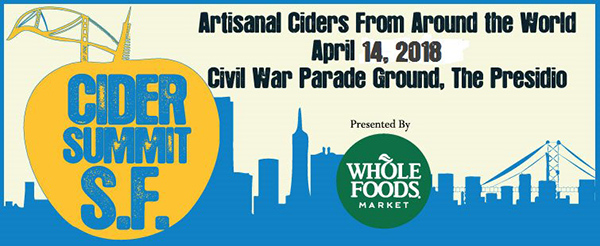 1) The 5th Annual Cider Summit San Francisco takes place Saturday at the Presidio. And don't miss the 3rd Annual NorCal Cider Classic tonight at Crooked City Cider in Oakland.
2) BrewDog Invests in London Cider Maker Hawkes according to Good Beer Hunting.
3) Sip Northwest Magazine lists 7 Breweries Branching into Cider.
4) Cider Chat interviews The Perry Farmer in Loré, France.
5) Notable profiles: Alpenfire (Port Townsend WA), 2 Towns (Corvallis OR), Ciderlicious (Springfield OR), Tapped Apple (Salida CA), Grand Illusion (Carlisle PA), and Spoke + Spy (Middletown CT).
6) Pommies Cider in Ontario announces their 6th Annual Tree Giveaway.
7) Hans Edwin Winzeler visits Susanna and James Forbes of Little Pomona in the latest UK Cider Sessions at Cider Culture. (The entry window for the British Cider Championships closes on Tuesday.)
8) The Ciderologist visits New Zealand in Sunny Cider Up.
9) CiderWorld takes place this weekend in Frankfurt. And in Portland, Reverend Nat's Hopped Cider Fest takes place on Saturday and the Portland Cider House 3rd Anniversary Party lasts all weekend long.
10) Along Came a Cider reviews Weidmann & Groh Cydonia and Art + Science West Valley Cider. Cider Says reviews Angry Orchard + Oliver's Understood in Motion 03, La Chouette Cidre Rosé, and Pierre Huet Poiré Demi-Sec. Cidercraft reviews Big Fish Allegheny Gold. Cider Culture debuts Cider Mail! Episode 1 with Dan Pucci and Meredith Collins. CiderScene spends A Cider Day in Indianapolis. The Milled Apple reviews Argus Ginger Perry. Cider Revival reviews Strongbow Artisanal Blend. The Cider Drinker reviews BumbleBee Hard Cider and Maeloc Sidra Extra Ecológica. And Cider Explorer reviews Mr. Plūme Ābolu Sidrs Dzirkstosais 2016, Hogan's Medium, and Cydr Jabłkowy Dry (learn more about Cydr Jabłkowy at Cider from Poland).
Have a great weekend!
Eric