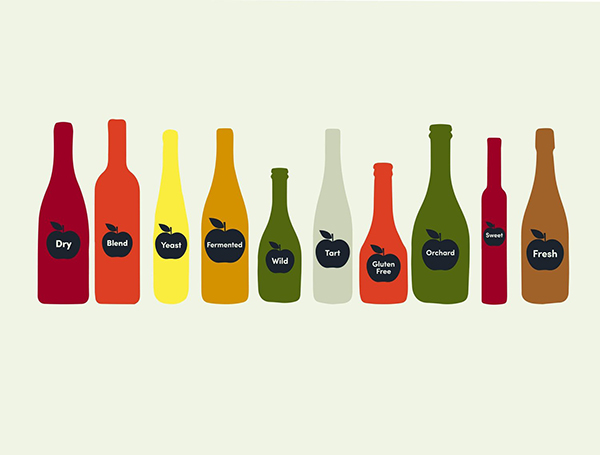 1) A Cider Language Project by Jordan Werner Barry examines the language cidermakers use on their product labels. Check out her posts on heritage, tannic, sour, soft, pear, lemon, and lees.
2) Cosmopolitan lists its 9 Best Rosé Ciders for Summer 2018. Cider Culture lists its 7 Citrus-Spiked Ciders to Try. And Cidercraft lists 7 New Canned Ciders for Outdoor Adventures.
3) Cider Culture lists 8 American Cideries Where You Can Host a Gorgeous Wedding.
4) Citizen Cider Announces Expansion according to Brewbound.
5) "You can't prune fast while you're thinking about your bills or your grocery list." Autumn Stoscheck of Eve's Cidery reflects on Pruning Apple Trees.
6) Cider Chat interviews Kirk Billingsley of Big Fish Cider in Highland County, Virginia.
7) CiderScene spends A Hard Cider Day in Atlanta. (For more, see Atlanta Hard Cider Opening in Westside from Eater Atlanta and Family and Legacy at Urban Tree Cidery from Cidercraft.)
8) Brännland Cider in Sweden aims to establish standards for Europe in What is ice cider? And Basque winemaker Iñaki Otegi Gaztelumendi wows sommeliers with his take on ice cider in Malus Mama is among the best ciders for fine dining – and restaurants love it.
9) Hood River Hard-Pressed Cider Fest takes place on Saturday. The festival features 25+ cideries from the Hood River Valley and beyond.
10) Along Came a Cider reviews Slyboro Hidden Star and Starcut Pulsar. Cider Says reviews Far West San Joaquin Sparkler, Tieton Lavender Honey, and Hérout AOC Cotentin Brut 2015. Cider Soms visit St. Vrain Cidery near Denver. The Cider Table shares its Pittsburgh 75 cocktail recipe and reviews Vander Mill Puff the Magic Cyser. Cider Revival reviews Far West Orchard Blend No.1. The Cider Drinker reviews Bignose & Beardy Hedgerow. Cider Explorer recaps CiderWorld 2018 and reviews Redbrook Cider Premium Suchý and Highbank Orchards Medieval Cider. And Real Cider Reviews tries Little Fat Lamb Alcoholic Hard Apple.
Have a great weekend!
Eric