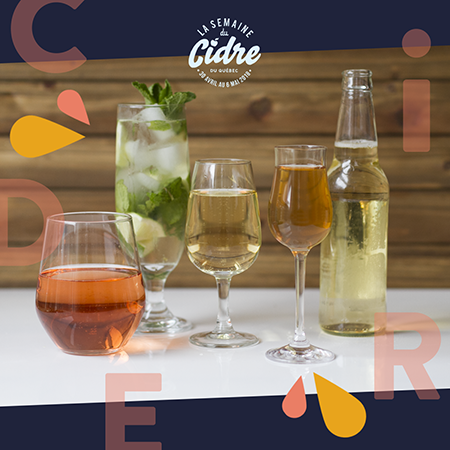 1) The 2nd Annual La Semaine du cidre du Québec opens on Monday with a full slate of events across the province.
2) BC Cider Week kicks off today in British Columbia. Events include the BC Bacon & Cider Festival, the Wards Okanagan Cider Festival, the Snakebite Festival at Tod Creek Craft Cider, the Sea Cider Social, and the BC Cider Festival.
3) The first issue of MALUS—a quarterly zine published by Ellen Cavalli of Tilted Shed Ciderworks—has found its way to subscribers' mailboxes. And Cidercraft spotlights the work of Dave Selden in Take Note: The Cider Journals of 33 Books Co.
4) Notable profiles: Wild Child Cellars (Massachusetts), Bauman's Cider (Oregon), and Stem Ciders' new restaurant Acreage (Colorado).
5) Cidercraft visits Henderson County: North Carolina's Apple Country.
6) Cider Chat inteviews Paul Vander Heide of Vander Mill. Vander Heide currently serves as President of the USACM Board of Directors.
7) The Westons Cider Report 2018 is here. The annual report sheds light on the UK cider marketplace, with an emphasis on industry trends and consumer demographics.
8) Entry registration for the 13th Annual Great Lakes International Cider & Perry Competition closes on Monday. Last year's GLINTCAP received 1,206 entries from professional and amateur entrants around the world.
9) Espalma La Sidra takes place this weekend in Pola de Siero, Asturias. And the Virginia Berry Cider Jam takes place on Saturday at Blue Bee Cider in Richmond, Virginia.
10) Along Came a Cider reviews Dunkertons Black Fox and Old Hill Cidermaker's Barrel. Cider Says reviews Ferme de Beau Soleil Cidre Fermier Bio Brut, One Tree Staycation, and Woodbox Double Barrel Ice Cider. CiderScene recaps Cider Rite of Spring and a recent Downeast Cider + Joe's American Bar & Grill Pairing Dinner. Sipology reviews Henry Hotspur's Hard Pressed. The Milled Apple reviews Wicked Grove Hard Cider and Frecon Farms Early Man. Cider Revival reviews Prospect Ciderworks Paradise. Cider Table reviews Big Hill Ciderworks Michaux Mule. The Cider Drinker reviews Tempted Cider Medium Dry. Cider Explorer reviews Oliver's Gold Rush #5, Abavas Ābolu Vīns Pussaldais, and TOPA Cidre Brut Basque. Fetch The Drinks recaps CiderWorld Frankfurt. And Real Cider Reviews tries Willie Smith's Kingston Black 2017.
Have a great weekend!
Eric