Hi!
Thanks again to Eric for letting me spend a bit of time in his curatorial seat while he's working on GLINTCAP results. Here's a recap of the best cider news worth sharing: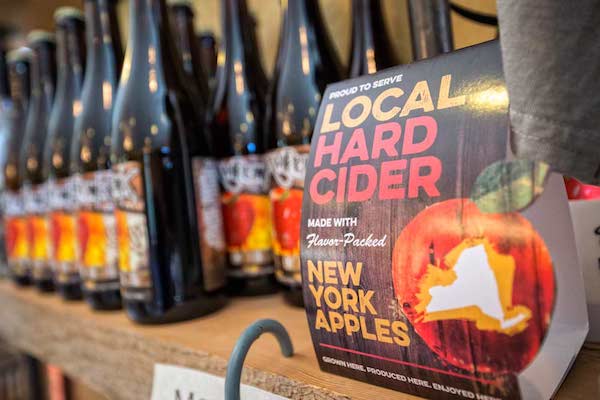 Credit: TJ Mullinax/Good Fruit Grower
1) According to Good Fruit Grower, Cider makers embrace regional variation even though a few different locales have called themselves "the Napa Valley" of cider.
2) Results are in for the Best in Class selections from GLINTCAP. And the Champion Cider at the International Cider Awards was announced earlier this week. Learn more about the competition from New Food Magazine.
3) There's lots happening in Vermont's corner of the cider world, Good Beer Hunting GBH in Residence — Shacksbury Cider's Graft Camp in Vergennes, and Its the Beer Talking has a cider fueled chat instead with Citizen Cider.
4) There's a rare Chance to join cider cooperative on offer in Golden Valley in the Ledbury Reporter.
5) In release news: according to Citizen Cider Spring Means B-Cider. B. C. Tree Fruit Cider has unveiled its latest Broken Ladder series cider: Pears and Peaches. Embark Ciderworks has reformulated and released their Tart Cherry Barrel Aged Cider.
6) New cider ventures are afoot, including in British Columbia as described in, It's About Time: SunRype Launches New Premium Craft Cider, and The Lake George Cider Project by Adirondack Pub and Brewery, as well as the birth of Western Cider Company in Montanta.
7) Like spring flowers, cider events are popping up everywhere this time of year, including some international excitement: Blossomtime on 30th April and 1st May 2017 – The Big Apple Association, Cider and Perry Trials – The Big Apple Association, the Reading Beer and Cider Festival, and Tag des Mostes.
8) And we don't just have individual events this time of year, it also BC Cider Week from April 28 – May 7. You can read about BC Cider Week — from the Northwest Cider Association. For a list of BC Cider Week Events — the Northwest Cider Association has it covered.
9) Looking back east, just this weekend, we've got Pour the Core: Boston and Virginia Hopped Cider Festival hosted by Blue Bee Cider, while coming soon in May will be Cider Creek Brewfest.
10) In podcasts, reviews, and blog posts this week, Along Came A Cider tells my story of visiting Original Stump Blower Ciderworks. CiderChat takes on US Cider Trends 2017 with Nielsen stats. Cider Says reviews Sandford Orchards Chesnut Cask, Dan Armor Cuvée Spéciale Cidré Poire, and Wildcide Wild Mule. The Cider Journal reviews South Hill Cider Pomme Sur Lie. CiderScene reviews Gnarly Grove Hard Cider Legendberry.  The Milled Apple reviews Aval: Cidre Artisanal.
Have a great weekend!
Meredith