Hello,
Here's a recap of the best cider news worth sharing: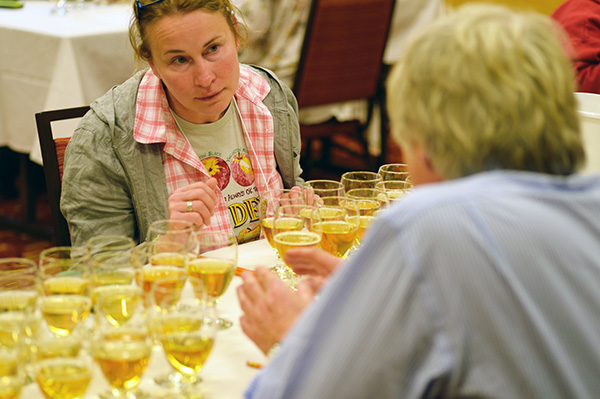 1) Over 1,000 entries were judged at last weekend's Great Lakes International Cider and Perry Competition (GLINTCAP) in Grand Rapids, Michigan. Full results have been posted for the Noncommercial Division (219 entries) and the Commercial Division (784 entries). The competition received entries from the United States, Canada, England, France, Spain, Ireland, and the Czech Republic.
2) My Experience at GLINTCAP 2016: The World's Largest Cider Competition! by Meredith Collins of Along Came a Cider is a first-hand account of the judging and related events.
3) FlavorActiV—which provides tools and training for professional sensory taste panels—has released Series One of its Cider Sensory Kit. (I have no relationship with FlavorActiV and have not used this product, but it looks worthy of further investigation.)
4) NPR's The Salt interviews orchardist Eliza Greenman in Beneath An Ugly Outside, Marred Fruit May Pack More Nutrition. What impact might this have on cider? Check out Part One and Part Two of Greenman's A Radical Orchardist? series for clues.
5) Cider Chat interviews John Bunker, who teaches that identifying an apple tree doesn't begin with the apple, it always goes back to the root of the tree.
6) "Why is it that so many writers insist on imagining a past where water was suspect, dangerous, avoided by most drinkers?" Food historian Jim Chevallier busts the cider-was-safer-than-water myth in The later water myths: early America. (If this piques your curiosity, read Chevallier's The great Medieval water myth and Beyond wine, water and beer: what else they drank in Medieval France.)
7) "The cider industry in the 1990s was nothing like it is today. In the early days…oftentimes you had to convince proprietors that there was a need for a cider on the menu." At Cider Culture, Christine Tarlecki sits down for A Conversation with Original Sin's Gidon Coll on the Evolution of Hard Cider (& More!).
8) Schilling Cider is set to release a cold-brew coffee cider in a nitro can package. Learn more about Schilling's Grumpy Bear—produced in collaboration with the nonprofit organization Street Bean Coffee—in this short video.
9) On tap this weekend: the Internationaal Cider Festival in Rotterdam, the The Big Apple—Blossomtime festival in Herefordshire, and the Reading Beer and Cider Festival in Reading.
10) Cider Says reviews Manoir De Montreuil Cambremer Cidre Pays d'Auge, Aspall Imperial English Cider (Blue Label), Cider Brothers William Tell Dry Hard Apple Cider with Wild Cherry, and Stem Ciders Le Chene. The Cider Journal reviews Private Reserve Cherry Barrel Aged Cider, Campfire Pancakes Smoked Maple Hard Cider, and Day Chaser Semi Dry Cider from Woodchuck, Henry Hotspur's Hard Pressed Spiced Cider from Trader Joe's, and Topwork Dry Cider, 2014 Spinosa Sloe Cider, and 2014 Graviva Blackberry from Tilted Shed. The Milled Apple reviews Citizen Cider bRosé. And Cider Steve reviews Newton Court Golden Blush and Yarlington Mill SVs from Gwatkin and Ty Gwyn.
Have a great weekend!
Eric