Hello,
Here's a recap of the best cider news worth sharing: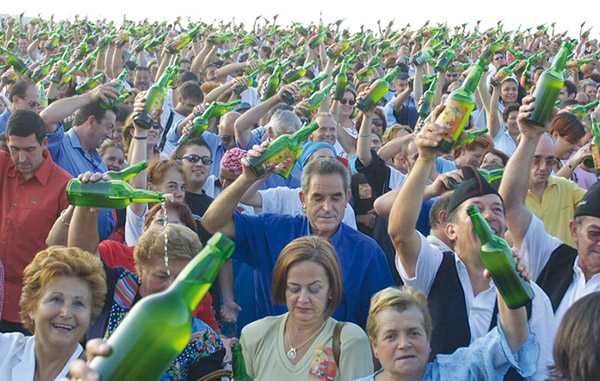 1) The 25th Annual Fiesta de la Sidra Natural opens in Gijón, Asturias. Among the many noteworthy events are a professional cider pouring competition and a world-record simultaneous cider pouring on Playa de Poniente (last year's record was 8,564 bottles). See the official festival program for full details.
2) Meredith Collins at Along Came a Cider embarks on The Great Vermont Cider Tour. Day 1 highlights include Farnum Hill Cider, Fable Farm Fermentory, and Stowe Cider. Day 2 highlights include Citizen Cider, Champlain Orchards, and Sunrise Orchards. And Day 3 highlights include Shacksbury Cider, Woodchuck Cider, and Slyboro Ciderhouse.
3) Ronald Sansone writes for Cider Culture on Drinking Cider in and Around Burlington, Vermont. In addition to the interactive map, there are many helpful shopping, dining, and lodging suggestions for a weekend road trip in Vermont.
4) Also at Cider Culture, Ellen Burkhardt profiles Rob Fisk of Wyndfall Cyder in Minnesota. Wyndfall recently moved its production to a 300+ acre orchard roughly 45 minutes from Minneapolis-Saint Paul.
5) The latest Cider Chat episode is Women Leaders in Cider for New York. Sara Grady is the founding producer of Cider Week New York, and Jennifer Smith is the executive director of the New York Cider Association.
6) Cider Says shares her Cider Summit Seattle 2016 Preview. The 7th annual event will be held on September 9th and 10th. And CiderScene recaps the Chicago South Loop Beer & Cider Fest that was held on August 6th.
7) Christian Conahan writes for Sip Northwest Magazine on Orchard Based: 6 Cideries to Sip Apple-side. One of those cideries is the excellent Rack & Cloth, which will have a one-night-only Pop-Up Taproom at Reverend Nat's this evening.
8) The annual Apfelweinfestival in Frankfurt comes to a close this weekend. The inaugural Tokyo Cider Week begins on Monday. (Anyone going? I'd love to know more!)
9) On tap in the US: Woodchuck's Ciderstock in Middlebury, Vermont; St. Cloud CiderFest in Minnesota; the Sausage and Cider Fest in Covington, Washington; the BlackBird Cider Works Summer Cider Festival in Barker, New York; and the opening weekend of Traverse City Cider Week in Michigan.
10) Drinking Cider reviews Talbott's Scrappy Apple. Cider Says reviews Number Six Dry 99, Eden Imperial 11 Rosé, and Sea Cider Flagship. The Milled Apple reviews Bold Rock IPA (India Pressed Apple). Sipology reviews Vander Mill Ginger Peach. The Ciderist reviews Aspall Dry English Cider and Citizen Cider bRosé. The Cider Drinker video reviews Dunkertons Dry and Ampleforth Abbey Traditional. And Cider Steve reviews Hogan's Cider Pukhraj.
Have a great weekend!
Eric