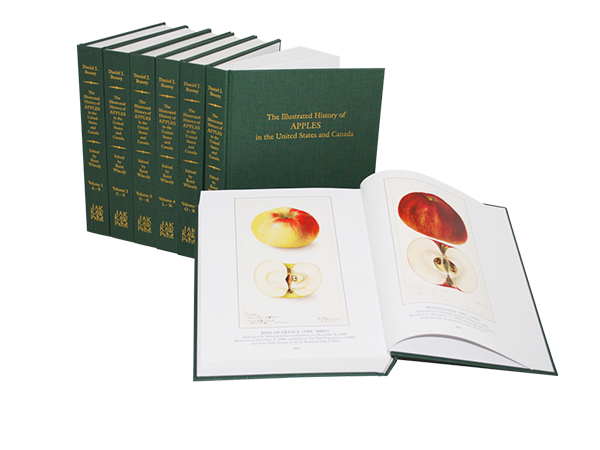 1) The 7-volume Illustrated History of Apples in the United States and Canada is now available for purchase. Researched by Dan Bussey and edited by Kent Whealy, it "will be the most important book on apples ever published in English" according to apple expert John Bunker.
2) Craig Cavallo explains Why Hard Cider Is the Ultimate American Drink for Condé Nast Traveler.
3) Eden Specialty Ciders debuts its Border Buster Cider, made from apples grown in both Vermont and Quebec. Learn more at Border Buster Cider Is the Fruit of Three Local Orchards.
4) Whitewood Cider Co. plans to open tasting room in Olympia. Whitewood is owned by longtime friend-of-cider Dave White and his partner Heather Ringwood.
5) Cidercraft posts Fast Facts on Crab Apples, with four cider recommendations.
6) Cider Chat shares tips on Reusing Oak Barrels for Cider.
7) Cider Press interviews Jim Watkins of Sociable Cider Werks in Minneapolis. And Beers of Europe talks with Jeremy Benson of Dunkertons Cider in Herefordshire.
8) Registration closes today for the New Zealand Orchard & Cidery Tour organized by Penn State Extension. Participants must be commercial cidermakers, commercial apple growers, or producers-in-planning.
9) Cider Riot! celebrates its One Year Pubiversary on Saturday in Portland, Oregon.
10) Along Came a Cider reviews Alpenfire Flame. Cider Says reviews the book Tasting Cider, shares Locust Cider Tasting Notes #4, and reviews Ulee's Light Cider Dry. drycider reviews Wheel-View Farm Standing Bull and Bembel With Care Apfelwein Cola. Sipology reviews Blake's Wakefire. CiderScene explains What's The Difference Between These Apple Products? Cider Society reviews Graft Cider Cloud City Azul District and B. Nektar Slice of Life. The Milled Apple reviews Moonlight Meadery Them Little Apples and Far From The Tree Cider Maker Series: Al 001. Cider Society reviews Rootstock Ciderworks Dry. The Cider Drinker reviews Greenridge Spoof. And Cider Explorer reviews Hunt's Sweet, Sigelsberg Suchý, and Pełnia Wytrawny & Wit Cider.
Have a great weekend!
Eric