Hello,
Here's a recap of the best cider news worth sharing: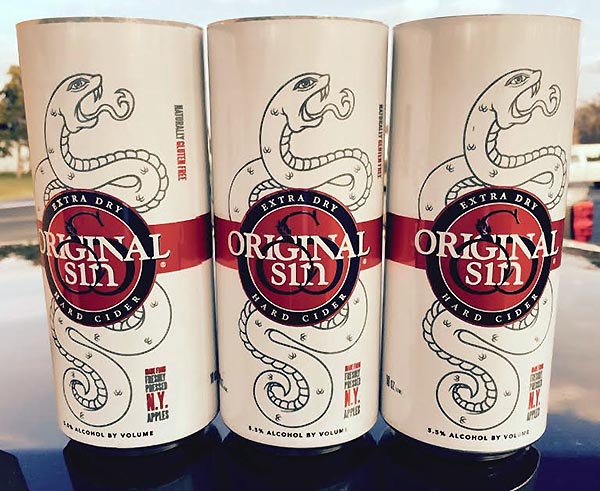 1) Original Sin celebrates its 20th anniversary by debuting its first canned cider. Extra Dry Cider, which uses 100% New York State apples and registers at 5.5% ABV, will launch in early 2016.
2) Pabst Brewing Company announces a partnership with Vermont Hard Cider Company to distribute VHCC's brands in the United States. Pabst—known for its successful national rollout of Not Your Father's Root Beer—has an option to purchase the Woodchuck, Wyder's, and Hornsby's brands and related assets.
3) It might not arrive in time for Christmas, but don't let that stop you from ordering an Heirloom Harvest Apple Box filled with 14 antique and exotic apples from Cummins Nursery.
4) Farnum Hill Cider shares the playful illustrations from its DIY CiderTime posters. (If you haven't bought a copy of Apples to Cider: How to Make Cider at Home, you should. The book is packed with cidermaking advice from the FHC crew and would be a welcome gift for any novice-to-intermediate cidermaker.)
5) Cider Chat talks with Ryan Burk, head cidermaker at Angry Orchard's Innovation Cider House in the Hudson Valley.
6) Nat West of Reverend Nat's preaches the gospel of hopped ciders, tepache, and much more on the Fuhmentaboudit! podcast. Right At The Fork—a podcast focusing on Portland, Oregon's food scene—talks with Abram Goldman-Armstrong of Cider Riot!
7) Cider With Maria recounts an extensive tasting of older vintages from West County Cider.
8) Brian Yaeger writes for Cidercraft on unusual beer-cider hybrids sometimes known as graffs.
9) In Urban Orchard 101: Know Your Microclimate, Courtney Mailey of Blue Bee Cider addresses the challenges of siting apple trees for long-term success.
10) Cider Says reviews Slake from Carlton Cyderworks, Somerset Draught Cider from Sheppy's, Black Currant Cider from Finnriver, Heirloom Blend from Eden Ice Cider, and Wild Fermented Cider from Dragon's Head. Along Came a Cider reviews Albee Hill from Eve's Cidery. And James the Wine Guy video reviews Sidra Natural from Riestra.
That's all. Have a great weekend!
Eric