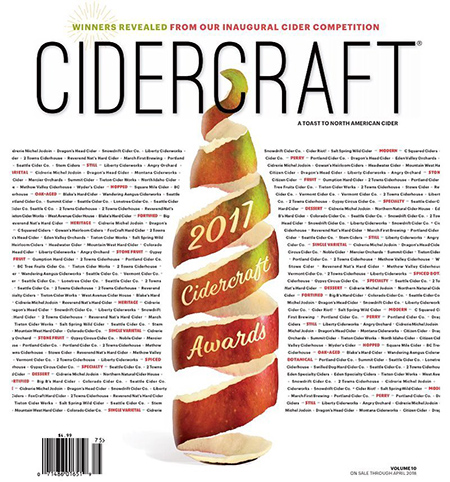 1) Results for the 2017 Cidercraft Awards are revealed. 300+ ciders in 13 style categories were judged in the inaugural competition.
2) Also at Cidercraft, 7 Reads for the Cider Lover on Your Gift List features a fine selection of cider books.
3) Not sure what to serve with panettone, rugelach, or marzipan? Dan Pucci has it covered in How to Pair 8 Classic Holiday Sweets with Cider.
4) Virtue Cider shares a Cider Cocktails Recipe Book in advance of its 4th Annual Stone Fence Cider Cocktail Competition in Chicago on January 14th. And Cider Culture shares 4 Cider Cocktails to Mix Up This Christmas.
5) Ian Merwin of Black Diamond Cider shares his Harvest Report 2017. And Matt Kaminsky of Gnarly Pippins reflects in Looking To Winter From the Pulpit of a Finished Harvest.
6) Evaluating Cider by Style and General Judging Tips is the latest in a series by Michael Wilcox for the Beer Judge Certification Program.
7) Cidermaker profiles worth reading: Locust Cider (Seattle), Longdrop Cider (Boise), Far West Cider (Bay Area), and Fairweather Cider (Austin).
8) The recently passed Tax Cuts and Jobs Act will lower federal alcohol excise tax for most producers. See Cider Tax News from the US Association of Cider Makers for a summary and WineAmerica and Beervana for commentary.
9) Some excellent videos from Herefordshire: Gregg's Pit by Felix Nash of The Fine Cider Company and Little Pomona by Jane Peyton of the School of Booze.
10) Along Came a Cider reviews Blue Bee Cider Hopsap Shandy. Cider Says reviews Pear Up Pearjito Colada and visits Leavenworth, Washington. Cider Chat interviews Adam Levy – The Alcohol Professor. CiderScene visits Cinder in Philadelphia and reviews Stowe Cider Gin and Juice. Hard Cider Reviews tries the Original Cider Tasting Mug and the 33 Mugs of Cider Tasting Notebook. The Milled Apple selects its Cidery of the Year and reviews Vander Mill Nunica Pine. Cider Society reviews Alter Ego The Brute and Jack's Dry Hopped. Cider Explorer recommends 8 Sparkling Ciders for New Year's Eve and reviews Guzman Riestra Sidra Brut Nature and Ex-Press Cider Gun Dog Millionaire. And Real Cider Reviews tries Small Acres Cyder Sparkling Rouge 2017.
Have a great weekend!
Eric