Hello,
Here's a recap of the best cider news worth sharing: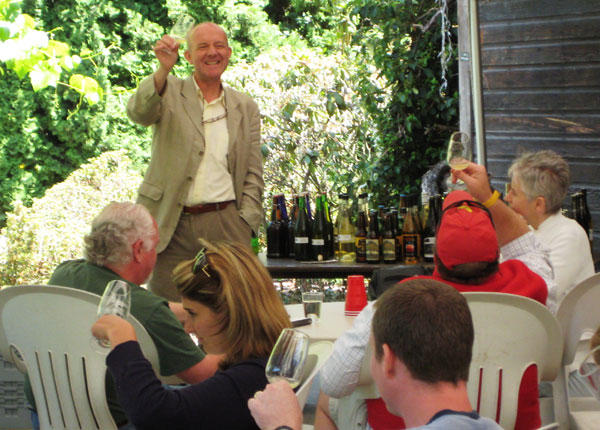 1) "You have to understand the science of making cider." British Cider Expert Peter Mitchell on North American Cider features quotes from Mitchell and his appreciative students. The newly-formed Cider Institute of North America offers cider production courses based on Mitchell's pioneering curriculum.
2) The Northwest Cider Association announces that 10 NW Cidermakers to Travel to Europe for Educational Mission. Participants will visit cidermakers in Normandy, Brittany, and Western England to learn the art and science of keeving.
3) "The fact that cider is not some footnote in American history, and that I know we had a very big part in reviving the American craft [of cider-making], gives me much pleasure." Paul Correnty—one of the founders of Franklin County CiderDays in Massachusetts—chats with The Harvard Press in Chef Paul's mission: Revitalizing the nation's love of hard cider.
4) The latest from Eleanor Leger at Cidernomics is Breaking Bad or Breaking Even. Leger and her Eden Specialty Ciders team are interviewed in this month's Cider Sessions, presented by the newly-launched CIDRBOX subscription service.
5) Wines In Niagara shares a detailed post on the Ontario Craft Cider Industry, with product reviews from respected producers County Cider, West Avenue Cider, and Revel Cider.
6) 9 Cysers to Switch Up Your Regular Drink Menu is the latest style overview from Cidercraft. Cyser is a mead that is made by fermenting a blend of honey and apple juice.
7) Two interesting new product releases are Starcut Erraticus 7—a wild-fermented cider aged on Northern Michigan blue spruce tips—and Mountain West Lunch Box Hard Cider—a wild-fermented cider made with apples grown at sites across the Salt Lake Valley.
8) The Not So Professional Beer Blog interviews Keenan Bailey of Carlton Cyderworks in Oregon. And Cider Chat interviews Nicole Todd of Santa Cruz Cider Company in California.
9) The entry deadline for The International Cider Awards 2017 is January 31st. Confirmed cider judges are Ryan Burk of Angry Orchard, Helen Thomas of Westons, Jean Pierre Stassen of Stassen, Peter Bronsman of Kopparberg, and David Sax of Redwood Cider Co.
10) Along Came a Cider reviews Left Foot Charley Henry's Pippin. Cider Says reviews d's Wicked Baked Apple and Tilted Shed Barred Rock. The Milled Apple announces Farnum Hill Ciders as its Cidery of the Year and reviews Far From The Tree Cord, West County Heritage Apple, and Potter's Blackberry & Brett. Simple Cider Reviews tries Elemental Carbon. Cider Society reviews Stowe Smugglers' Reserve Bourbon Barrel Aged, Windfall Orchard Farmhouse, and Golden Lion Premium Cider from Colombia. CiderScene reviews Vander Mill Totally Roasted. And The Cider Drinker reviews Craigies Ballyhook Flyer 2015 and Blind Pig Whiskey, Honey & Apple.
Have a great weekend!
Eric