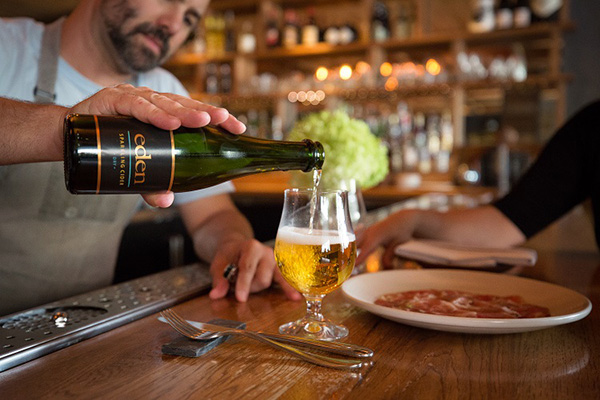 1) Cider Culture reveals that Heritage Cider to be Showcased at CiderCon 2018. The conference will take place at the Baltimore Waterfront Marriott from January 30 to February 2. Visit CiderCon 2018 for details.
2) Cidercraft shares its Holiday Gift Guide. For other ideas, consider an Apple Harvest Box from Cummins Nursery or order cider directly from Eve's Cidery and Kite & String Cider.
3) Seth Boeve of Virtue Cider talks about making The Mitten, a bourbon barrel-aged cider influenced by Goose Island's Bourbon County Stout.
4) Cider Culture interviews Shannon Edgar of Stormalong Cider. And Sip Northwest interviews Sean Kelly of WildCraft Cider Works.
5) Raging Cider & Mead no punk product according to the San Diego Reader. And in Nova Scotia, Meander River Farm and Brewery expands further into cider territory according to The Chronicle Herald.
6) Brooklyn Cider House nears its funding goal to complete the build-out of its Bushwick cidery, restaurant, and bar.
7) Eric Shatt from Redbyrd Orchard Cider reports on Harvest 2017. And Aston Manor Cider—the UK's largest independent cidermaker—believes its Record Harvest is Just the Start.
8) Peckham's squeezing the boundaries of cider making in the Moutere Valley of New Zealand's South Island.
9) The 7th Annual NY International Beer Competition will include cider categories for the first time.
10) Along Came a Cider reviews South Hill Prelude #3. Cider Says reviews 2 Towns Man Gogh Imperial Tropical Apple, Citizen Cider Mr. & Ms. Burlington, and Portland Cider Cranberry. Cidercraft reviews Reverend Nat's Winter Abbey Spice. I Think About Cider reviews Fuchshof Most. CiderScene recaps Black Twig Txotxfest in Txotx and Be Happy! The Milled Apple reviews Schilling Lumberjack Rhubarb and Cider-Grown: Eden Specialty Ciders. Cider Society reviews Pacific Coast Hard Apple Cider with Mango and Muscat, Uncle John's Cranberry Apple, and MackJac Blood Orange Ginger. The Cider Drinker lists his Top Ten Cider Producers of 2017 and reviews Caple Rd Blend No. 3. Cider Explorer reviews Celtic Marches Down Down, Kwaśne Jabłko Tropikalny 2015, and Gusswerk Big Arlet. And Real Cider Reviews tries Sullivan's Jumpin' Cider.
Have a great weekend!
Eric