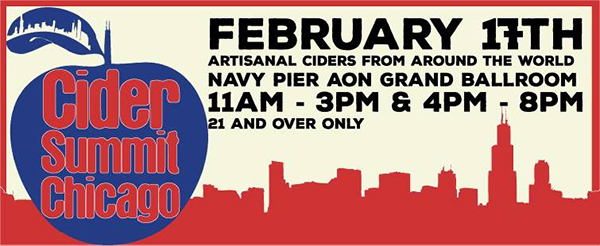 1) The 6th Annual Cider Summit Chicago takes place on Saturday at Navy Pier. Check out the producer list and the TV appearances by The Northman's Ambrosia Borowski and Brian Rutzen.
2) Condé Nast Traveler is On the Cider Trail in Spain's Basque Country. The 2018 txotx season was officially opened by Basque mountaineer Alberto Iñurrategi on January 15.
3) Cider Culture interviews Meredith Collins and Eleanor Leger in Women Making Waves in the Cider World: CiderCon 2018 Edition. Cider Chat interviews Rick Moreno of Newtopia Cyder in San Diego. And Brian Rutzen joins the Barrel to Bottle podcast to discuss All Things Cider.
4) Pommel Cyder examines the Hard Facts on the Origins of "Hard" Cider. (In case you missed it, check out the previous installments on etymology and spelling.)
5) Cider Culture looks at 4 Cideries Blending Cider and Tea to a Tee.
6) This week's cidermaker profiles: Brick River Cider Co. (St. Louis), Jefferson County Ciderworks (Iowa), and Haykin Family Cider (Colorado).
7) The TTB posts slides from its recent CiderCon workshop in Labels and Taxes and Bonds – Oh My!
8) Barny Butterfield of Sandford Orchards shares an amusing reflection in A Devon Ciderman At The Annual American Cider Conference. And the latest UK Cider Sessions at Cider Culture features Julian Temperley of Somerset Cider Brandy and Burrow Hill Cider.
9) Nine Pin Cider hosts the 4th Annual Gathering of the Farm Cideries on Saturday. New York now boasts 42 farm cideries according to the NYS Liquor Authority.
10) Along Came a Cider posts Part 2 of her highlights from CiderCon 2018. Cider Says reviews Merridale Cyser, Cidre de Rhuys Brut, and Salt Spring Wild Semi-Dry. Cidercraft reviews WildCraft Cider Works Aronia Berry Sour. I Think About Cider reviews Once Upon A Tree Marcle Ridge 2014. Sipology reviews Dan Armor Cuvée Spéciale Poiré. Cider Soms recap Cider School: Angry Orchard @ The Northman. CiderScene recommends 5 Perfect Valentine's Day Gifts for Any Cider Lover. Cider Like Wine posts An Apple By Any Other Name. The Milled Apple reviews Embark Craft Ciderworks The Batch. Cider Society reviews 1911 Established Cider Donut, Slim Pickens One, Two Strawberry Cider, Permann's Fresh Valentine, and Bishop Cider Co. The OG. The Cider Drinker reviews Worley's Beatnik Billy. Cider Explorer recommends 7 Ciders for Valentine's Day and reviews Beard & Sabre Yardarm and Cider Bohemia Barrique. And Real Cider Reviews posts an Interview with The Ciderologist (Imbibe UK Educator of the Year) and tries Wilce's Dry Cider.
Have a great weekend!
Eric