Hello,
Here's a recap of the best cider news worth sharing: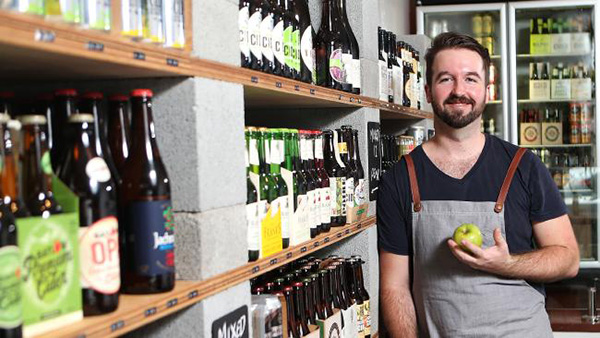 1) Medhurst & Sons—a newly-opened cider shop in the Sydney suburb of Glebe—stocks 77 varieties of Australian cider according to The Daily Telegraph. Learn more about Medhurst & Sons from their website and on Facebook, Twitter, and Instagram.
2) The Boston Beer Company—owner of the Angry Orchard brand—releases its Fourth Quarter 2015 results. President and CEO Martin Roper states that "[w]e remain positive about the long term cider category potential, but short term growth is less certain."
3) What is Apple Juice Concentrate & What Does it Do to Cider? Jeff Alworth reflects on a CiderCon workshop presented by Terry Chambers of fruit ingredient processor FruitSmart.
4) Dan Daugherty of Cider School shares some practical considerations for production equipment that up-and-coming commercial cidermakers should keep in mind in Cidery In a Box.
5) Ready to turn your passion for cider into a career? The United States Association of Cider Makers is hiring an Executive Director,  the Northwest Cider Association is hiring an Executive Director, and the Empire Cider Center in Geneva, New York is hiring cidermaker interns.
6) Darlene Hayes of turn them all into cider explores the cider industry's growing identity crisis in American Cider Zeitgeist.
7) Spirits and cocktails expert Kara Newman writes for Bloomberg Business about American apple brandy and related spirits in Applejack Is Serious Now.
8) Ria Windcaller of Cider Chat interviews Darlene Hayes, author of the highly recommended book Cider Cocktails — Another Bite of the Apple. (If cider cocktails interest you, check out Episode 300 of Beer Sessions Radio from Cider Week NYC.)
9) Bill Bradshaw—author of the Cider Enthusiasts' Manual and co-author of the excellent World's Best Ciders—joins BBC Somerset to chat about his CiderCon experience.
10) Cider Says shares tasting notes from a recent visit to Schilling Cider House and reviews Cockrell Original Hard Cider, Schilling Cider LumberJack (Rhubarb), Dragon's Head Kingston Black, Jester & Judge Columbia Belle, and Wandering Aengus Golden Russet. Along Came a Cider reviews Strongbow Honey Hard Apple Cider. The Cider Blog reviews Mostbaron Gourmetmost Preh from Austria. And The Milled Apple reviews Virtue Cider The Ledbury, Oliver's Traditional Cider and Oliver's Ellis Bitter Cider, Urban Farm Fermentory Baby Jimmy, Flag Hill Farm Vermont Cyder, and Farnum Hill Summer Cider.
Have a great weekend!
Eric