Hello,
Here's a recap of the best cider news worth sharing: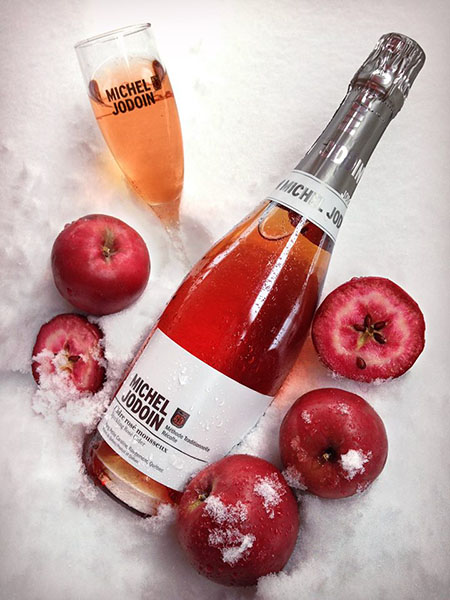 1) Did you ring in the New Year with cider? Two trends I'd love to see gain momentum in 2016 are sparkling ciders and rosé ciders. The Cidre rosé mousseux from Michel Jodoin—a Champagne method cider made with the red-fleshed Geneva apple—ticks both boxes.
2) "This collision of drinks reflects a cultural shift, a growing understanding that cider, so often lumped together with beer, actually has far more in common with wine." In California winemakers embrace new era of cider, Jon Bonné samples ciders from Central Coast producer Scar of the Sea and muses on what California tastes like in apple form.
3) "[The US cider market] exploded. But it exploded too quickly and then everybody else piled in." CEO Stephen Glancey discusses the recent Pabst/Woodchuck partnership and much more in C&C chief aims to put the fizz back into the cider company. (In related news, Dan Rowell—CEO of Vermont Hard Cider Company—shares more details on the partnership in Woodchuck Cider to lose 10 jobs from merger.)
4) DRiNK Magazine—an industry publication based in Shanghai—focuses on apple-based beverages in Cider's happy hard core and Tasting room: calvados.
5) Beer Sessions Radio releases its conversation with apple expert John Bunker. (If you missed it, Bunker appeared on Episode 6 of my podcast alongside Rowan Jacobsen, author of Apples of Uncommon Character.)
6) Cider Chat talks with Geoff Robinson of Castle Hill Cider in Virginia. Castle Hill uses egg-shaped earthenware vessels called kvevri for its Levity cider. These unusual vessels are native to the Republic of Georgia, where they are buried underground for fermenting traditional wines.
7) Nick Morris at The Cider Blog lists the various wassails to be held in England this winter. See the Wassailing and Apple Wassail articles on Wikipedia to learn more about this ancient orchard-blessing tradition.
8) White Labs has launched an innovative program to release highly unique yeast strains if enough pre-orders are received. Learn more at Drinking Cider's article Cider Yeast from the Vault.
9) Meredith Collins at Along Came a Cider shares her 10 Favorite Ciders of 2015. (If you're curious, check out her 10 Favorite Ciders of 2014 and 10 Favorite Ciders of 2013.)
10) Cider Says reviews Dry from Cascadia Ciderworkers United, Red Apple from Spire Mountain, Apfelwein from Freyeisen, four ciders from Elemental, and the book Craft Cider: How to Turn Apples into Alcohol from Bushwhacker's Jeff Smith.
Happy New Year!
Eric