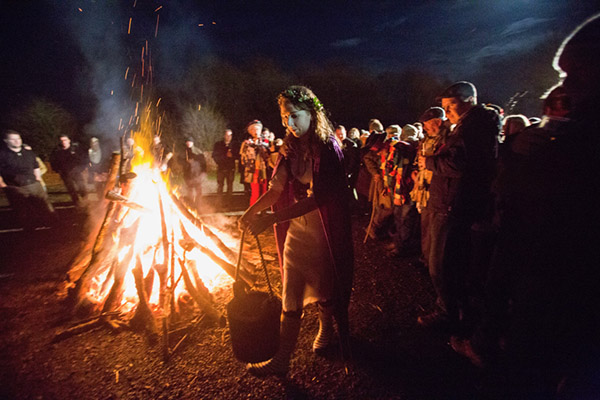 1) How to celebrate wassail at home from Fiona Beckett and Wassail! from Authentic Cider are brief looks at the ancient orchard wassailing tradition. Celebrate at Sampford Courtenay (Devon), Raglan Cider Mill (Wales), C Squared (Colorado), Castle Hill (Virginia), and other locations around the world.
2) Aspall snapped up by Molson Coors after eight generations of family business according to The Telegraph. Read commentary from Gabe Cook at The Morning Advertiser and Susanna Forbes at Imbibe UK.
3) Joshua M. Bernstein lists The Absolute Best Places to Drink Cider in NYC.
4) Cider Institute of North America Announces Executive Director and 2018 Courses according to New School Beer. CINA will offer a condensed version of its coursework—Cider Institute Boot Camp—at CiderCon in Baltimore.
5) Cider Chat interviews Eleanor Leger of Eden Specialty Ciders about cidernomics. Cidercraft also caught up with Leger in Talking Tannic Apples.
6) PUNCH shares some tips on How to Use Apple Brandy in Cocktails. (Of related interest: Virtue Cider hosts its 4th Annual Stone Fence Cider Cocktail Competition on Sunday.)
7) In Boise, Meriwether Cider Co. to Open Cider House and New cidery to launch in Downtown space from Chris Blanchard of Longdrop Cider. In Santa Fe, Desert Dogs Brewery and Cidery quietly builds following. In San Diego County, there's Homegrown Fruit with Raging Cider & Mead. And in Lewisburg, West Virginia, Hawk Knob wins the People's Choice Award at the Farm Bureau Rural Entrepreneurship Challenge.
8) The Japan Cider Master Association releases its Cider Encyclopedia. Learn more about author Tsukasa Ono and collaborator Marie Tanaka in Cider Chat Episode 51. (inCiderJapan—the first cider magazine in Asia—released its first issue in December.)
9) Big Hill Ciderworks wins Best of Show at the inaugural Pennsylvania Farm Show Cider Competition. (The 13th Annual Great Lakes International Cider & Perry Competition is set for May 16-19 in Grand Rapids. If you're headed to CiderCon, stop by the GLINTCAP table in the trade show and say hello!)
10) Along Came a Cider reviews Snowdrift Cornice. Cider Says shares tasting notes from Schilling Cider House Visit 31 and reviews Oliver's Gold Rush #2 and Central City Imperial Cider. Cidercraft reviews Guthrie CiderWorks Dry. CiderScene profiles Ferro Farms Hard Cider and lists 5 Honey Ciders You Need To Try! The Milled Apple reviews Aslin Beer Co. + Graft Cider Strange Lands and Cider-Grown: Stormalong. Cider Society reviews Original Sin Elderberry, Shacksbury Spritz Ginger, and Jack's Fireside. ciderreview tries Albemarle CiderWorks Old Virginia Winesap. The Cider Drinker reviews Brewhive Cider Brew. Cider Sleuth reminds us that P is for Perry. And Cider Explorer reviews Gutshof Kraatz Apfelglühwein, Manufaktura Cydru Scrumpy, and Dupont Cidre Bouché 2015.
Have a great weekend!
Eric