Hello,
Here's a recap of the best cider news worth sharing: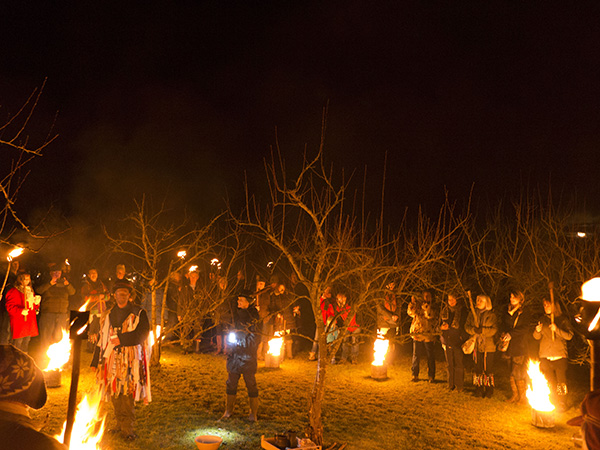 1) Wassail! from The Ciderologist is a great introduction to the English wassailing tradition. Notable wassails take place on Saturday at Uncle John's Cider Mill, Virtue Cider, and McMenamins Cornelius Pass Roadhouse. Can't attend a wassail in person? Browse Bill Bradshaw's Wassail Photos and try his recipe for traditional mulled cider (or try these modern interpretations from MillStone Cellars).
2) The 2017 Good Food Awards Ceremony takes place in San Francisco this evening. In the Cider category, 28 products from 16 producers have previously been named as Finalists. Tune into Heritage Radio Network's Live Player at 9:30pm Eastern / 6:30pm Pacific for the full broadcast.
3) Graft Cider in Newburgh, New York has been named to the 2017 Imbibe 75. Kyle Sherrer—formerly of MillStone Cellars in Maryland—is creating tart, wild-fermented ciders that draw inspiration from craft beer. (The article isn't available online, but try this #wildyeastciderforthemasses post on Instagram.)
4) In What Did Historic Cider Taste Like?, Mark Turdo—guest cidermaker at Blackledge Winery in Pennsylvania—turns to 18th and 19th century sources for answers. His conclusion? "It seems our pre-Prohibition ancestors enjoyed ciders which were significantly sharper, tarter, or sourer than most modern ciders."
5) Pete Brown—whose recent books include World's Best Ciders, The Apple Orchard, and The Pub—wonders if there's a different narrative to enjoying our beverages in Tasting Beer: Some Thoughts and Reflections. (Substitute cider for beer in this article and very little is lost in translation.)
6) Cidercraft interviews Rob Fisk of Wyndfall Cyder in Minnesota. Longdrop Cider Co. in Idaho opens their new Boise tasting room. Swilled Dog Hard Cider launches in West Virginia. And Bivouac Ciderworks in San Diego raises funds via Kickstarter to fund their production facility and taproom.
7) Cider Chat interviews Bartosz Gałka of Slow Flow Group in Poland. According to the US Apple Association, Poland is the world's third largest apple producer behind China and the United States.
8) The Manchester Beer & Cider Festival in Manchester, England is in full swing. The Cider & Perry List is among the best I've seen for a CAMRA festival.
9) Why does fine cider often exist in obscurity? The Case for Hard Cider, An Evening of Experts and Rare Vintages pairs beer historians Mike Stein and Pete Jones of Lost Lagers with beverage director Tim Prendergast of ANXO for a lively presentation and discussion. The event takes place this evening at Sandy Spring Museum outside Washington DC.
10) Along Came a Cider reviews Quebrada del Chucao Sidra Brut Nature. Cider Says reviews Carlton Cyderworks Carry Nation, Soultree Authentic Dry Cider, and Clos des Ducs French Cidre. The Milled Apple reviews McKenzie's Pumpkin Jack, Schilling Ascender Ginger, and Starcut Octorock. Cidercraft reviews Square Mile Spur & Vine. I think about cider reviews Dunkertons Organic Perry. Cider Society reviews Slyboro Kingston Black, Graft Cider Book of Nomad: Labyrinth in the Sun, and Proper Cider SOB (Straight Outta Barrel). CiderScene blogs about Strange & Unique Cider Flavors and reviews Shacksbury Semi-Dry. Cider Steve reviews Oldfields Worcestershire Cider, National Trust Dry Vintage Cider, and Henney's Autumn Gold. And Real Cider Reviews tries Little Green Sweet Apple Cider.
Have a great weekend!
Eric