Hello,
Here's a recap of the best cider news worth sharing: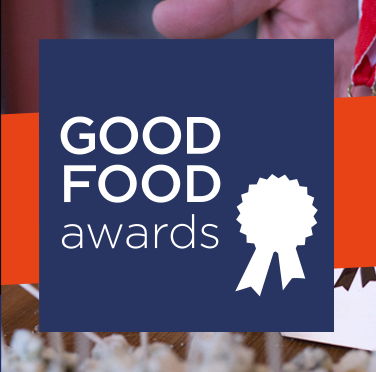 1) This year's Good Food Awards Winners are Big B's, Blue Bee, Far West, Finger Lakes Cider House, Finnriver, Humboldt, L. Mawby, Orchard Hill, Scar of the Sea, Slyboro, Snowdrift, and Whitewood. The awards celebrate companies that create vibrant, delicious, and sustainable local food economies.
2) "Ask any local cider aficionado what they drink, and chances are they'll point you toward Eve's Cidery." Larissa Zimberoff writes From the Finger Lakes, a Real Cider Maker's Cider for Edible Manhattan. (Of related interest: Cummins Nursery has a substantial supply of cider apple trees for spring shipping.)
3) Kate Bernot features Graft Cider and Big Hill Ciderworks in Wild-fermented ciders court sour beer drinkers for DRAFT Magazine. Unsure where the sourness in cider comes from? Michael Wilcox writes on Acidity in Cider and Perry for the BJCP Newsletter.
4) Sheridan Smith lists 5 New East Coast Cideries to Explore in 2017 for Cidercraft. And Sofia Payson features Ironbound Cider in "New Jersey, Come See for Yourself" for Cider Culture.
5) CheatSheet lists 10 Hard Ciders You've Never Heard of, But Need to Try. And The Cider Journal encourages you to Explore These 25 French Ciders. New reviews for the article are Cidrerie Daufresne Brut, Cidrerie Daufresne Poiré, Manoir de Grandouet Cidre Fermier Brut, Domaine de la Minotiere Cidre Fermier Bio Brut, and Le Brun Organic Cidre.
6) The latest Cider Sessions from CIDRBOX features Brad Koehler of Windfall Orchard in Vermont. And Cider Chat talks with Brian Rutzen of The Northman in Chicago. (The episode opens with Michelle Foik of Chicago's ERIS Brewery and Cider House detailing the CiderCon tastings. Worth a listen if you're headed to the conference.)
7) Jeff Alworth—author of Cider Made Simple: All About Your New Favorite Drink—features Oregon's Rack & Cloth in How to Do Social Media.
8) Cidermaker Ryan Burk and photographer Eva Deitch launch CIDER/FOOD, a chronicle of "cider, food and the places/moments they meet." Their first post is Breaking Bread.
9) 'A true legend' of the Ontario craft cider industry is Rick VanSickle's eulogy for Grant Howes of the County Cider Company. The well-loved Howes has died of a heart attack at the age of 60.
10) Along Came a Cider reviews Gowan's 1876 Heirloom. Cider Says reviews Ratel Dry Hopped and Honest Abe Cider from the DoubleCider January Box. The Milled Apple reviews Angry Orchard Elderflower, Maeloc Sidra Seca, Stormalong Kingston Black, and Bear Swamp Orchard New England Cider. Cidercraft reviews Blue Bee Aragon 1904. The Cider Journal reviews New Avalon Pale 2015, New Avalon Filigreen 2015, New Avalon Bartlett Perry 2015, and Eden Imperial 11° Rosé. I think about cider reviews Craigies Ballyhook Flyer 2014. Cider Society reviews Awestruck Lavender Hops and Cider Creek Make America Grape Again. Cider Soms go on a Central/Gulf Coast Florida Cider Road Trip. The Cider Drinker reviews BlakStoc Quincy Jo & Hops Edition. cidersense reviews La Fauconnerie Cidre de Normandie and Les Trois Frères Jan Cidre Fermier Breton. And Real Cider Reviews tries Daylesford 'Alf n 'Alf 2015.
Have a great weekend!
Eric