Hello,
Here's a recap of the best cider news worth sharing: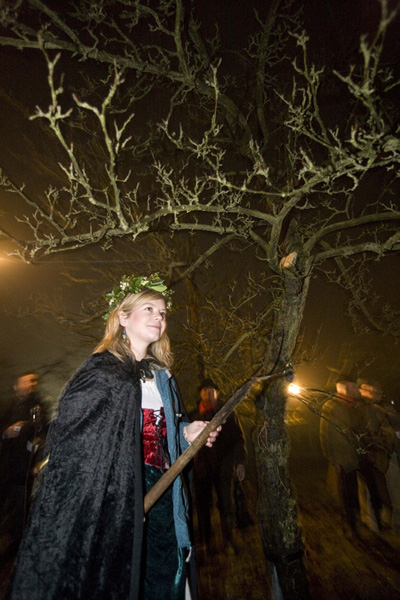 1) Bill Bradshaw—author of the Cider Enthusiasts' Manual and co-author of the excellent World's Best Ciders—explains the British wassail tradition and shares some captivating photographs in Wassail!
2) The cider world will soon converge on Portland, Oregon for this year's Cider Conference (CiderCon). Check the official schedule for events at the host hotel and the unofficial schedule for special events around town. (I've bundled #cidercon, #cidercon16, and #cidercon2016 in a single view on Twitter. For Instagram, you'll want to check #cidercon, #cidercon16, and #CiderCon2016 separately.)
3) Tim Prendergast of ANXO Cidery & Pintxos Bar and David Cordtz of Sonoma Cider help Eater figure out What the Country's New Cider Act Means for You. (While this is unquestionably good news, the article neglects to mention that the changes won't take effect until 2017.)
4) The Northwest Cider Association launches the Cidermaker's Tool Kit, a Wikipedia-style platform that will capture skills, tips, and links related to running a commercial cider operation. Join the community and contribute your knowledge for the greater good!
5) Hundreds of rare cider apple varieties in Herefordshire's Tidnor Wood orchard will be preserved thanks to efforts taken by the National Trust. Learn more about the gift from BBC News and The Guardian.
6) The latest Cider Sessions episode of Beer Sessions Radio features an interview with Greg Hall of Virtue Cider.
7) Diane Flynt of Foggy Ridge Cider and Tim Edmond & Dan Potter of Potter's Craft Cider appear on recent episodes of the Edacious podcast.
8) Ed McGrath is The Cider Chef on Facebook, curating a collection of recipes from Normandy and elsewhere that incorporate cider.
9) Amateur cidermakers take note: the entry window for the 2016 Washington Mead & Cider Cup opens on February 1st. The competition will be held in Redmond on Saturday, March 12th.
10) Along Came a Cider reviews Never Give an Inch from Cider Riot! Cider Says reviews CiderHead from Honey Moon, Northern Spy Barrel Aged Ice Cider from Eden, Private Reserve Barrel Select from Woodchuck, and Hawk Haus from E.Z. Orchards. The Milled Apple reviews Pomme de Coeur from Vins Arista, Hopsation from Woodchuck, and Cidre Triple from Etienne Dupont. Bad Rider Reviews tries Dry Pear from Naramata in British Columbia. And Real Cider Reviews weighs in on the award-winning 18 Varieties Apple Cider from Willie Smith's in Tasmania.
Hope to see you in Portland!
Eric