Hello,
Here's a recap of the best cider news worth sharing: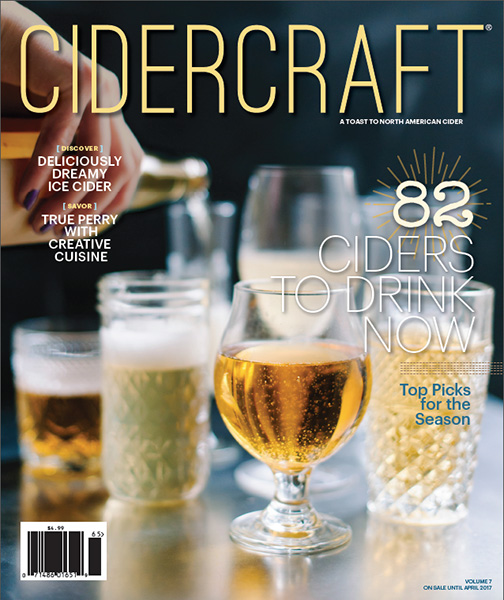 1) The latest CIDERCRAFT Magazine is on newsstands now. Feature articles explore ice cider, food pairings with perry, cider packaging design, historic cider cocktail recipes, and West Country ciders. A print subscription—only $12.99 for 1 year or $19.99 for 2 years—is well worth the investment!
2) The federal hard cider tax definition expanded on January 1. Read more about the changes—higher alcohol, higher carbonation, and the inclusion of pears—in the latest TTB Newsletter.
3) Farnum Hill Ciders wraps up its #OrchardCiderYear project with Week 52. And Angry Orchard wraps up its A Year In The Life of A Cidery project with December: Looking Back.
4) Good Beer Hunting reveals more about David Ryan—president of Hood River Juice Company—and his quest for vertical integration in Oregon Juice Supplier Acquires Stake in Multiple Cider Makers.
5) This week in podcasts: Good Beer Hunting interviews Paul Vander Heide of Vander Mill in Grand Rapids, Michigan. The Artisan Situation interviews Ben Wenk of Three Springs Fruit Farm and Ploughman Cider in Adams County, Pennsylvania. And Cider Chat interviews Anzu Fernández of La Sidra Magazine in Asturias.
6) This week in profiles: Minnesota's Number 12 Cider House and Keepsake Cidery from The Heavy Table, New York's Good Life Farm and The Finger Lakes Cider House from Cider Culture, Massachusetts' Artifact Cider Project from Cidercraft, and Washington's Alpenfire Cider from Sip Northwest.
7) Recent openings: Solace Mead and Cider in Spokane is a co-op tasting room from Hierophant Meadery and Twilight Ciderworks. Learn more in Innovation through Collaboration from Spokane Coeur d'Alene Living. And Cider Culture shares details on an ambitious arcade/taproom project in Bishop Cider Opens Cidercade in Dallas. See The Cidercade on Facebook for a list of machines and exclusive house ciders.
8) The first London Amateur Cider Maker Competition will be held at the London Drinker Beer & Cider Festival on Friday, March 10. Entries must be unfiltered, unpasteurized, and made entirely from apples and pears grown in Greater London.
9) Cider Culture shares 5 Top Tips for Making the Most of Your CiderCon 2017 Experience. The industry's premier conference will be held February 7-10 at the Hilton Chicago. Early bird registration fees and discounted room rates expire soon.
10) Along Came a Cider reviews Starcut Immortal Jelly. Cider Says shares My Favorite Ciders of 2016 and reviews Cragies Dalliance 2012, the Sonoma Cider Winter Mix 4-Pack, and Sonoma Cider The Jax. The Milled Apple reviews Blackthorn and declares West County Heritage Apple, Artifact Tip Top, and Farnum Hill Kingston Black 2014 its three Best Ciders of 2016. Cidercraft reviews Two Rivers Dry English. The Cider Journal reviews Mawby Century, Mawby Wild, and Mawby Bright. Simple Cider Reviews tries Finnriver Black Currant, Sixknot High Desert Dry, Liberty New World Style, Montana CiderWorks McIntosh, Whitewood Gibbs Farm, and Eve's Northern Spy. Cider Society reviews Yankee Folly Cider, Graft Cider Book of Nomad: Bottom of the Ocean, and Appleation Sweet Hard Cider. I think about cider's Photo of the Week is of Eric Bordelet. And The Cider Drinker reviews Possmann Heisser Apfelglühwein.
Have a great weekend!
Eric