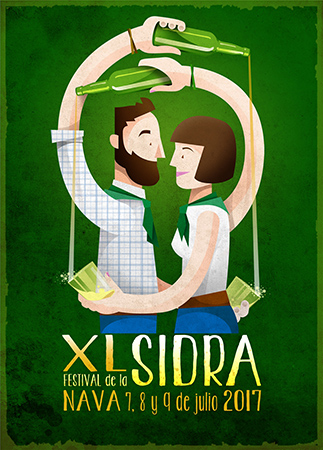 1) The 40th Annual Festival de la Sidra de Nava takes place this weekend (scroll to bottom of page for English version). The festival—which includes a competition for professional cider pouring—is an important cultural event in Asturias.
2) Once Home to Horses, This 1940 Complex in Richmond is Now an Artisanal Cidery is a well-photographed article about Blue Bee Cider's new premises.
3) Stormalong Cider Opens New Production Facility in Massachusetts according to Brewbound. The new facility in Leominster will complement Stormalong's original small-batch facility in Sherborn.
4) Growers seek best way to supply fruit to cidery market is an insightful look at the economics of the "dessert-cull fruit market" by Terence Bradshaw of the University of Vermont.
5) Andy Brennan of Aaron Burr Cider is on A mission to recreate America's "true cider". (Brennan's latest rant is "All Ships Rise in Rising Waters! Hop Aboard or Drown On Your Land" – Says Cider Market.)
6) Cider Chat interviews attorney Lindsey Zahn of On Reserve: A Wine Law Blog about cider laws and regulations.
7) One of Europe's newest cider bars is Сидр и Нэнси (Cider and Nancy) in Saint Petersburg.
8) The Cider Press Blog features The Moss Cider Project. The urban cidery in Manchester, England sources all of its apples from community donations.
9) Beer on the Wye XIII takes place in Hereford this weekend, featuring 100 of Herefordshire's best ciders and perries.
10) Along Came a Cider reviews Far From the Tree Sprig. Cider Says shares tasting notes from Schilling Cider House Visit 28 and reviews Wrangletown Oak Barrel Aged and Wrangletown Original. I think about cider reviews Le Brun Organic Cidre. Hard Cider Reviews tries Downeast Summer Blend, Austin Eastciders Pineapple, and Citizen Wit's Up. CiderScene reviews Jeni's Right Bee Cider Sorbet. The Milled Apple reviews Uncle John's Apple Cherry and Boyden Valley Winery Honey Hopper. Cider Society reviews Nine Pin The Lion's Share and Doc's Draft Sour Cherry. The Cider Drinker shares the History of Turners Cider and reviews Nempnett Piglet's Choice Medium. Cider Explorer reviews Ramborn Avalon Vintage 2015, Opre' Perry, and Garden Cider Elderflower. And Real Cider Reviews tries The Goose Cider Ancestrale.
Have a great weekend!
Eric