Hello,
Here's a recap of the best cider news worth sharing: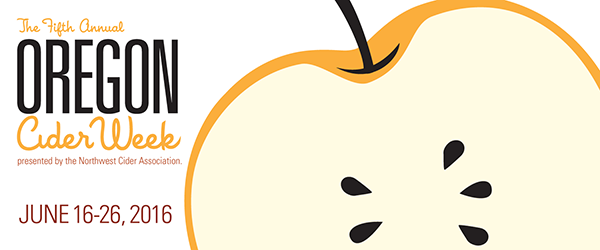 1) Oregon Cider Week kicks off this weekend. Cider Summit Portland—held on Friday and Saturday in the Pearl District—is the highlight, but Reverend Nat's Hard Cider, Portland Cider Company, Bushwhacker Cider, and other cider hotspots will host many events of their own.
2) Jeff Carlson is named Cidermaker of the Year at the National Homebrew Competition for his Sweet Heat jalapeño cider. This marks the fifth time that Carlson has topped the cider categories at NHC. And in the inaugural Big E Northeast Gold Cider & Perry Competition, ADK Hard Cider of Plattsburgh, New York wins Best in Show for its Double Tap Maple Cider.
3) "I'm looking for some of the most unique and rare apples that are grown in Michigan." Mike Beck of Uncle John's Hard Cider talks with the Lansing State Journal about production, quality, and selection in What's up with hard cider?
4) Do your part to revitalize Flint, Michigan by helping Flint City Hard Cider Co. fund their Kickstarter campaign.
5) Cider Chat interviews Danielle von Scheiner of Big Apple Hard Cider in New York City.
6) Mountain West Cider in Salt Lake City encourages you to Put Some GAY In Your Day! During the month of June, the company's flagship Ruby Hard Cider becomes Ruby's Gay Hard Cider with a special edition label. A portion of the proceeds will be donated to the Utah Pride Center.
7) The Heritage of Orchards & Cider Making in Wales is an ambitious collaboration between the Welsh Perry and Cider Society and The George Ewart Evans Centre for Storytelling at the University of South Wales. The project aims to regenerate old orchards, plant new orchards, analyze Welsh cider apples and perry pears, and produce a digital collection of oral histories. Follow the project on Facebook, Twitter, and Instagram to learn more.
8) The inaugural Slavnost Cideru cider festival takes place this Friday, Saturday, and Sunday in Prague. Producers from the Czech Republic and other European nations will be represented. And if three days at the festival isn't enough, drop by InCider Bar and select a cider or two from their extensive bottle list.
9) Other events include the International Cider and Perry Championship held on Friday at the Royal Three Counties Show in Worcestershire, the Concours régional des Cidres de Bretons held on Monday at the Abbaye de Léhon in Côtes-d'Armor (Brittany), and a Cidermaker Dinner featuring Oregon's Art + Science held on Wednesday at Wassail in New York City.
10) Along Came a Cider reviews Cidergeist Semi Dry Hard Cider. Cider Says shares tasting notes from a flight at Schilling Cider House and reviews 2 Towns Ciderhouse La Mûre and Brooklyn Cider House's Kinda Dry, Half Sour, and Still Bone Dry. The Milled Apple reviews Original Sin Pear Cider and Artifact Cider Project Trail Hopper. Cider Soms visit The Northman to review Anthem Tea Cider and Uncle John's Raw. And Cider Steve reviews Circle Cider Roundabout and Rich's Cider Dunkerton's 2013.
Have a great weekend!
Eric