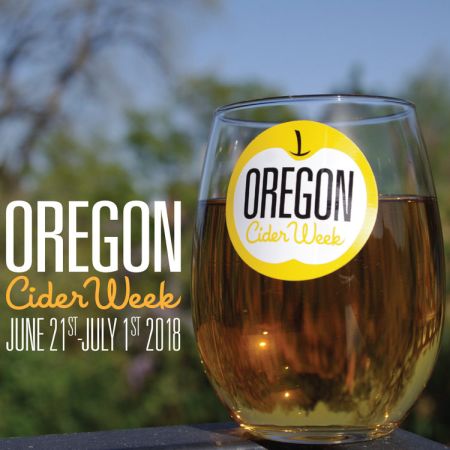 1) The 7th Annual Oregon Cider Week is underway. Visit the Facebook Page and check out the dozens of events at Reverend Nat's, Portland Cider Company, 2 Towns Ciderhouse, and other cideries.
2) PA Cider Fest is Pennsylvania's premier cider tasting festival. See Growth of PA Cider Fest, set for Saturday, reflects industry's expansion for more. (And don't miss the Did Prohibition Prohibit Cider? talk from cider historian Mark Turdo.)
3) Martinelli's launches hard cider to celebrate the company's 150th anniversary.
4) USACM is now accepting CiderCon 2019 Presentation Pitches. The deadline is July 11th.
5) Learn more about nuclear magnetic resonance spectroscopy in Cider's Chemical Fingerprints from Cider Chat. And Redfield Radio Episode 3 focuses on dryness and bubbles in cider.
6) Cidercraft documents The Love Affair of Right Bee Cider in Chicago.
7) Estonian cidermaker Siidrikoda seeks to raise €885,000 via Funderbeam to increase production capacity and expand its export program.
8) "[Fruit cider] is not the future of cider—if it is, then cider is already dead." Tom Oliver captures the cider zeitgeist for Imbibe Live, to be held July 2-3 at Olympia, London.
9) Cider Salon Bristol—a unique celebration of specialty bottled cider in the UK—takes place this weekend. See Huge cider festival The Cider Salon is coming to Bristol for more.
10) Along Came a Cider reviews Eden Heritage and Treehorn El Treeablo. Cider Says reviews Worley's Red Hen and Eden Heritage. Cidercraft reviews Schilling Excelsior Imperial Apple. CiderScene addresses How to Buy Cider at the Store. Cider Couple review Champlain Orchards Cidery Mac & Maple and Downeast Mint Lemonade. Cider Table reviews Boulard VSOP Calvados. The Cider Crate embarks on a 2 Day Tour of Prince Edward County. The Cider Drinker reviews Garden Cider Dry Hopped and discusses Transparency and Other Stuff. Cider From Poland believes it's an Exciting time for Polish ciders! And Cider Explorer reviews Kupela Sagardoa, OBC Rosé, and Hogan's Hip Hop.
Have a great weekend!
Eric