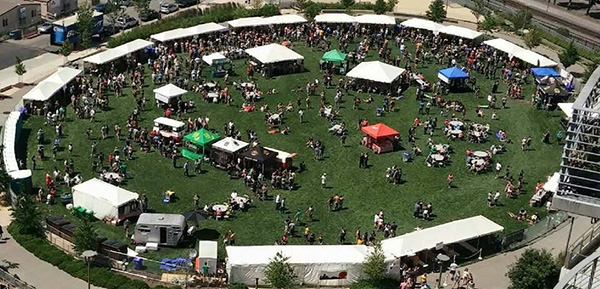 1) The 8th Annual Cider Summit Portland takes place on Friday and Saturday. See 2018 Cider Summit PDX Cider Announces Cider List for what's on offer. And for more Oregon Cider Week news, listen to interviews with Reverend Nat's, Runcible Cider, and the Northwest Cider Association.
2) Sea Cider Farm & Ciderhouse in British Columbia wins Best of Show at the 2018 Portland International Cider Cup. See PICC 2018 Winners for a full list of medalists.
3) At Cider Culture, Meredith Collins writes Cider Loves Food: CSA Veggies Pairings and Samantha Story writes Cider + The Outdoors: Hiking the Pisgah National Forest in Brevard, North Carolina.
4) "We have beer-ified the modern cider category." The Denver Post chats with local cidermakers in The reinvention of cider arrives in Colorado.
5) Current crowdfunding campaigns: Siidrikoda (Estonia), The Big Bear Cider Mill (Essex), and Halfpenny Green Cider Company (West Midlands).
6) "So few people know anything about cider. Even sommeliers in the best restaurants have very little knowledge." The Fine Cider Company's Felix Nash puts cider back on the fine dining map according to imbibe.com.
7) Hawkes joins forces with Tom Oliver to blend urban and country cider styles in the collaboration cider All Made Equal. (Also worth a look: Seven of Gloucestershire's best cider producers to sample this summer.)
8) Metropolis Magazine posts an Interview with Lee Reeve of inCiderJapan.
9) Cider winners at this year's National Homebrew Competition will be announced on Saturday. And registration for the 2019 Good Food Awards opens on Monday.
10) Along Came a Cider reviews AeppelTreow Blackbird and Farmhaus Classic. Cider Says reviews Cider Riot! San Patricios, Woodchuck Cucumber Mint, and 2 Towns Pearadise. Cidercraft lists 6 Crab Apple Ciders to Try Now. CiderScene lists its Best Ciders for a Summer BBQ. Cider Like Wine recaps PA Cider Fest in Keystone Cider Treasure Hunt. Cider Couple review Old Settlers Cider Pothole. Cider Revival reviews 1911 NY Hopped. Cider Table reviews Ploughman Lupulin Lummox. The Cider Drinker reviews Westons Rosie's Pig Raspberry Roller. Cider Explorer recaps Slavnost Cideru 2018 and reviews Dunkertons Court Royal, Czider Félédes, and Finnbarra Tobairín. And Real Cider Reviews tries Tuckerbox Apple Cider.
Have a great weekend!
Eric