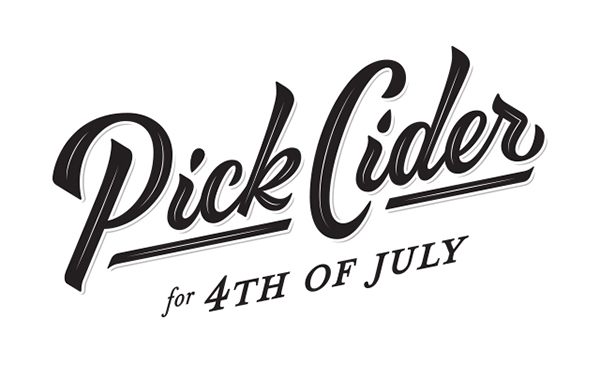 1) The United States Association of Cider Makers encourages you to #PickCider for July 4th. Visit PickCider.com and follow @pick_cider on Instagram for inspiration.
2) Dan Pucci of Wassail suggests Unexpected Ways to Pair Cider with Your Next Meal at Cider Culture.
3) Gretchen Perbix of Sweetland Orchard talks apple growing and cidermaking on the Minnesota Skinny Podcast.
4) The July CIDRBOX shipment features Kite & String Cider, formerly known as Good Life Cider. And the July DoubleCider shipment features Dragon's Head Cider and Tilted Shed Ciderworks.
5) Blake's Hard Cider Completes $2 Million Expansion, Doubles Capacity according to Brewbound.
6) Entry registration is now open for the Mendocino Apple Show International Cider Competition and the California Cider Competition. Judging for both competitions takes place on August 29th.
7) UK drinkers consume 44% of the world's cider according to GlobalData. Follow @CiderStatMatt on Twitter for more insights from the annual Westons Cider Report.
8) Pete Brown lists his 10 best ciders to drink this summer for The Telegraph. Felix Nash selects Five Of The Finest Ciders for Mr Porter. And Claire Dodd lists her 10 best British ciders for The Independent.
9) The Cider Crate recaps The County Cider Company Brewmaster's Dinner in Ottawa. And Cider Explorer recaps the Slavnost Cideru festival in Prague.
10) Along Came a Cider reviews Nine Pin Peach Tea and Stem Ciders Pear. Cider Says reviews Cascadia Ciderworkers United Grapefruit Tangerine, 2 Towns La Mûre 2015, and Jester & Judge Nowhere Special. The Milled Apple reviews Bee Well White's Harvest and Stem Ciders Malice. Cider Society reviews Downeast Aloha Friday, Urban Farm Fermentory Blueberry Cidah, Graft Cider Cloud City Amarillo District, and Reverend Nat's Hallelujah Hopricot. I think about cider reviews Dupont Pommeau de Normandie. Cider Steve reviews Crone's Original and Crone's Special Reserve. Cider Explorer reviews PasiCydr, Hoxton Cidersmiths Michelin & Brown's, and Joker Cider. And Real Cider Reviews tries Cornish Orchards Heritage Cider.
Have a great weekend!
Eric