Hello,
Here's a recap of the best cider news worth sharing: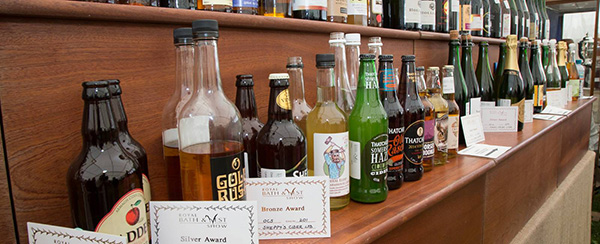 1) Entries are now being accepted for the British Cider Championships held at the Royal Bath & West Show in early June. Class 16 (International Cider) and Class 17 (International Perry) are for entries outside the UK, and no entry fees are charged for these classes. Register your entries for the world's longest-running cider competition online or the old-fashioned way.
2) "It's the art, process, and discovery that moves me in this whirlwind of cider making." Eric Shatt of Redbyrd Orchard Cider in the Finger Lakes reflects on the annual cycle in his brief essay There is Art in Cidermaking!
3) Jordan Mackay visits the Calvados region of Normandy to interview Emmanuel Camut (Calvados Adrien Camut) and Guillaume Drouin (Calvados Christian Drouin) in The Apple, Distilled. If this piques your curiosity, pick up a copy of Charles Neal's excellent Calvados: The Spirit of Normandy.
4) And for a slightly different take on Calvados and the related drink Pommeau, check out the fortified pear wines made by Charles Martell & Son (called Poireau) and by AeppelTreow Winery & Distillery (called Poirissimo!).
5) Cider Chat interviews Bill Bradshaw—cider aficionado, author of the Cider Enthusiasts' Manual, and co-author (with Pete Brown) of World's Best Ciders and The Guide to Welsh Perry and Cider.
6) Cider Culture interviews Ryan Burk of Angry Orchard, Curtis Sherrer of Maryland's Millstone Cellars, and the team behind Pennsylvania's Wyndridge Farm.
7) Tom Oliver shares his #CiderCon2016 Report on the Oliver's Cider and Perry blog. For another perspective on the Rose City, check out Ron Sansone's report on the best places to be Drinking Cider in Portland, Oregon.
8) Reddit—the online community known for its Ask Me Anything (AMA) interviews—has an active cider community at /r/Cider.
9) Hawk Knob Cidery and Meadery launches a Kickstarter campaign to build out its tasting room and to support its self-distribution efforts. Based in the beautiful Greenbrier Valley of West Virginia, Hawk Knob proudly celebrates its Applachian roots.
10) Along Came a Cider reviews Doc's Draft Gold Rush. Cider Says visits Locust Cider, Elemental Hard Cider, and Woodinville Ciderworks and reviews Virtue's Cherry Mitten and The Mitten (2014) and Angry Orchard's Knotty Pear and The Old Fashioned. The Milled Apple reviews Cider Brothers William Tell Dry, McKenzie's Lazy Lemon, Cider Creek Little Boy Brett, Harvard Cider Company's Paradise and Anchor, Sonoma Cider The Anvil, and Le Brun Brut Cidre de Bretagne. Cider Soms reviews Uncle John's Russet. Bad Rider Reviews tries Aaron Burr Hemlock Apple. Traveling Cider Lovers review Oliver's Gold Rush #4. And Love Thy Cider reviews Wild Cider Hard Pineapple and Hazlitt Cider Tree.
Have a great weekend!
Eric