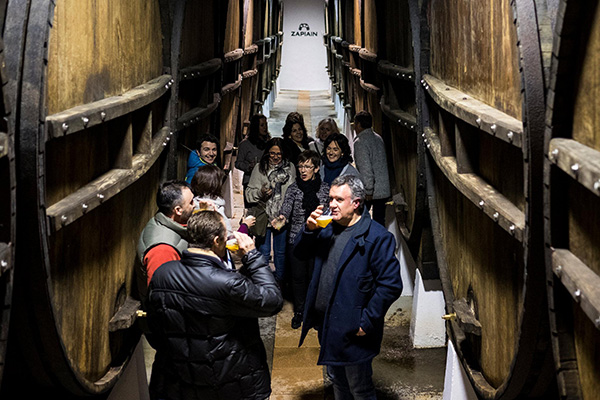 1) "Here, cider is not just an alcoholic beverage. It's a way of life." In Spanish Basque Country, Sampling Cider and an Ancient Ritual is Jason Wilson's account of the txotx season for The New York Times.
2) Michelle McGrath talks rosé cider with Refinery29 in Everything You Need To Know About The Latest Trend In Rosé.
3) Diane Flynt of Foggy Ridge Cider is named a 2018 James Beard Award Nominee. This marks Flynt's fourth consecutive nomination in the Outstanding Wine, Spirits, or Beer Professional category.
4) Melissa Madden tells the story of Kite & String's GoldRush 2016 (11% ABV!) in Making Cider for the trees.
5) The latest Cider Chat episode is Stinky Cider Troubleshooting with Rebekka deKramer of Scott Labs.
6) Cidermaker profiles of note: Spoke + Spy Ciderworks (Middletown CT), Supreme Core Cider (Washington DC), Long Road Cider Company (Barretville TN), and Willamette Ale & Cider House (West Linn OR).
7) Virtue Cider encourages you to celebrate St. Patrick's Day with its take on the classic Snakebite.
8) Cidercraft previews Hood River Hard-Pressed Cider Fest and other Springtime Events Made for Cider.
9) Cider Salon Bristol—a first-of-its-kind event scheduled for June 22-23—will focus on specialty bottled ciders from independent cider producers. (Check out the UK Cider Festival Guide 2018 from Crafty Nectar for other events.)
10) Along Came a Cider reviews Whitewood Olivia and Virtue The Mitten Reserve. Cider Says reviews Manchester Road 42, Angry Orchard Rosé, and 2 Towns Passion Statement. Cidercraft reviews Double Mountain Brewery Oak Aged Dry and shares 6 Cider Picks from Our Staff. Hard Cider Reviews tries Colorado Common Hopped. The Milled Apple reviews Mainiac Mac Blueberry. Cider Society reviews Cider Creek Spy Games, Portland Cider Company Hop'Rageous, Red Clay Ciderworks Cherry Bobbin' Trolls, and Art + Science Symbiosis. Cider Revival reviews Crispin Browns Lane and Bad Seed Dry. CiderScene reviews Urban Tree Vintage Gala, explores Boston's Cider Scene, and interviews Crafty Nectar. Crafty Nectar talks 'Hard Cider' with CiderScene. The Cider Drinker reviews Ex-Press Sweet and Ganley & Naish Dabinett and unboxes a package from Bembel-With-Care. And Cider Explorer reviews Abavas Apple Cider Medium, SeaCider Medium Dry, and Redbrook Perry Polosuchý.
Have a great weekend!
Eric