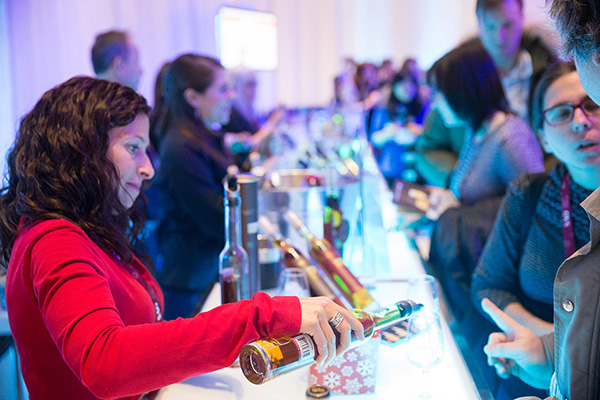 1) Le Mondial des Cidres takes place this weekend in Montreal. The public festival showcases the craftsmanship of Quebec's many artisan cider producers.
2) USACM Releases Updates to Its Cider Certification Program. Level 1 now focuses on material of direct relevance to distributors, wholesalers, retailers, and bar and restaurant professionals.
3) Meredith Collins' latest Craft Cider Roundup for Cider Culture is Cozy Winter Ciders for Cold Weather Survival. Also at Cider Culture: 6 Cider Cocktails for Late Winter Survival and It's All Coming Up Rosés: 8 Ciders to Drink to Get Your Pink On. And at Cidercraft, Celebrate the Sour: American Sidra-Style Ciders features 6 ciders made in the Asturian and Basque style.
4) "We are Buffalo's local cider." BlackBird Cider Works Announces New Location In Buffalo's Black Rock Area.
5) Cider Chat interviews Rob Miller of Distillery Lane Ciderworks in Maryland.
6) David Benscoter—known as The Apple Detective—finds five more apple varieties thought to be extinct and seven others that were rare or lost near Spokane, Washington.
7) UK cider taxation system harming industry growth, claims urban producer Hawkes of London. For more, read Rotten to the core: An analysis of UK cider tax from Beeson On Beer.
8) The entry window for the International Cider Challenge closes tonight. The reigning Supreme Champion is Thatchers' Cider Barn – Redstreak.
9) Portland Cider Company hosts a 5 Year Anniversary Party at its pub in Clackamas on Saturday.
10) Along Came a Cider reviews Portland Cider Company Pineapple and Two Towns Pacific Pineapple. Cider Says reviews Liberty Ciderworks Pink Pearl and Argus Apple Bomb. Cidercraft reviews Citizen Cider Tulsi. CiderScene reviews the January DoubleCider Subscription Box and recaps The Gathering of the Farm Cideries. Hard Cider Reviews tries The Original Cider Tasting Mug by 33 Books Co. Cider Like Wine pits ice cider against ice wine in Ice Eis Baby. The Milled Apple reviews Portland Cider Company Concord Grape and Cidergeist Bubbles. Cider Society reviews GoodRoad CiderWorks Going Down Under, Rootstock Ciderworks Hopped, and Red Clay Ciderworks Queen City Common. The Cider Drinker reviews HCC Black Pear. Cider Explorer reviews Abavas Ābols Apiņos Hopped Apple, Redbrook Original Polosuchý, and Ramborn Hopped Cider Cascade 2016. And Real Cider Reviews tries a handful of Henry's of Harcourt Single Variety Ciders.
Have a great weekend!
Eric