Hello,
Here's a recap of the best cider news worth sharing: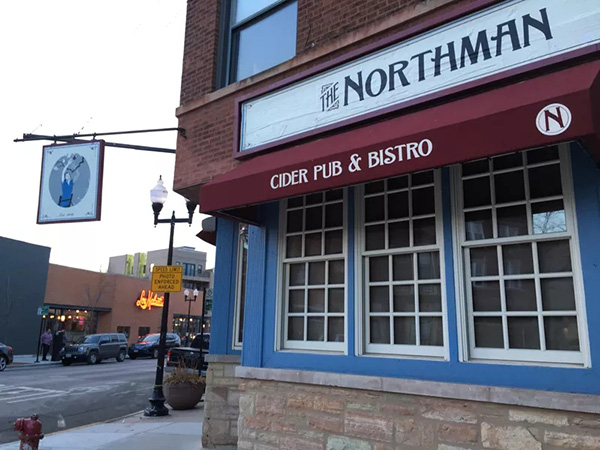 1) The Northman—Chicago's first cider bar—has officially opened to the public. Read more from DNAinfo, the Chicago Tribune, and Eater.
2) Urban Tree Cidery is also set to open its doors. Read more in Atlanta's First Cidery Opens to the Public Next Week from Eater Atlanta.
3) Toronto looks forward to its first cider bar this spring—Her Father's Cider Bar + Kitchen. According to blogTO, the downtown spot is owned by Joshua Mott, whose parents run Beaver Valley Orchard and Cidery.
4) Boise Weekly visits with Meriwether Cider and LongDrop Cider in Take a Sip with Boise's Two Cider Makers.
5) MEL Magazine posts an interview with Field Maloney of West County Cider.
6) Citizen Cider is switching to a Stop-Fermentation process in order to retain residual sweetness in its ciders without added sugars. Often referred to as "cold crashing" in amateur circles, the technique is not widely used commercially.
7) Cider Chat interviews Alec Steinmetz of Buskey Cider, a soon-to-open urban cidery in Richmond, Virginia.
8) Real Cider Reviews ranks nine of the most widely available Australian ciders in Commercial Cider Shootout.
9) The 7th Annual Primer Sidre l'Añu (First Cider of the Year) has begun in Gijón, Asturias. The four-day festival officially opens the Asturian cider season with exhibitions, workshops, guided tastings, cooking demonstrations, games for children, and traditional music and dance.
10) Along Came a Cider reviews Far From the Tree's Nova Hopped Cider. Cider Says shares tasting notes from a flight at Schilling Cider House and reviews Locust Cider Alder Smoked Apple, Finnriver Farmstead Cider Traditional Semi-Sweet, Aspall English Demi Sec Draft Cider and Elemental Hard Cider NW Atomic Root Beer. The Milled Apple reviews Artifact Cider Project Roxbury, William Tell Strawberry and William Tell Pinot Grigio from Cider Brothers, Angry Orchard The Old Fashioned, Stormalong Dry Hop, Farnum Hill Extra Dry, and Austin Eastciders Original Dry. Cider Soms review Tieton Sparkling Perry. Traveling Cider Lovers review Wandering Aengus Ashmead's Kernel. And Real Cider Reviews tries Three Farms Cider from Tasmania.
Have a great weekend!
Eric