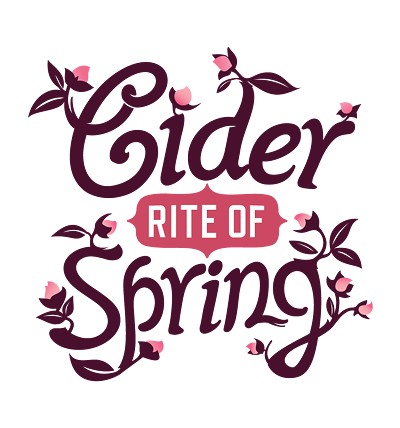 1) Saturday's Cider Rite of Spring will feature 100+ ciders from 30+ producers across the Northwest. Listen to Cider Rite of Spring 2018 Preview from the Portland Beer Podcast for details.
2) Think Pink: 9 Rosé Ciders for the Crazed at Cidercraft and What Does Hard Cider Rosé Taste Like? at Bustle explore a variety of pink-hued ciders.
3) Dan Pucci digs through the New York Public Library archives in Peering Into the Past: Exploring Cider on Historic Restaurant Menus.
4) "The United States Association of Cider Makers strongly opposes the proposed tariffs on steel and aluminum." Learn more about the association's position in USACM Board President's Statement on Tariffs.
5) Cider Chat interviews Phil Kelm of Gitche Gumee Ciderworks in Michigan's Upper Peninsula.
6) Cidercraft interviews Gretchen Perbix in Midwestern Sensibility and Apples with Sweetland Orchards.
7) One juice. Three ciders. Learn more about the unique Mid-Atlantic collaboration in Big Hill + Distillery Lane + Albemarle Joint adVENTURE Cider at Cider Culture.
8) Two Broads Cider is San Luis Obispo's newest (most modern) hard cider yet profiles the company whose ciders include Bearded Queen, Crabby McCrabface, Kumquat May, and The Gala Agenda.
9) West Asheville businesses unite for inaugural Cider Crawl on Saturday. Visit the Cider Crawl Facebook event page for details.
10) Along Came a Cider reviews Fable Farm Fermentory Greensboro and Citizen Cider Tulsi. Cider Says reviews Finnriver Fire Barrel and Woodchuck Pear Ginger. Cidercraft reviews Common Cider Company Lemon Saison. Cider Soms recap Chicago Cider Week. CiderScene is Defining Sours, Grafs & Fruit Ales. The Milled Apple reviews Norumbega Classic. Cider Society reviews Millstone Rose Bonnet. Cider Revival reviews Stella Artois Cidre, Smith & Forge Hard Cider, Downeast Original Blend, Cider Creek Saison Reserve, and Strongbow Gold Apple. The Cider Drinker reviews Old Jollop High Noon and Twisted Tree Hopped Cider. Cider Explorer reviews MacIvors Medium, Mr. Plūme Ābolu Karstsidrs 2016, and Ross-on-Wye Ashton Brown Jersey. And Real Cider Reviews tries Gwynt y Ddraig Gold Medal Cider.
Have a great weekend!
Eric