Hello,
Here's a recap of the best cider news worth sharing: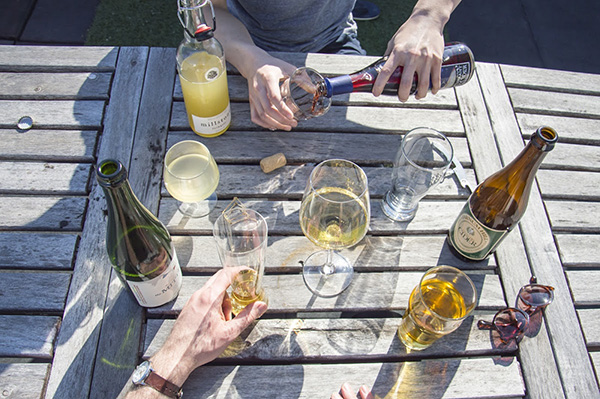 1) Ashley Mason asks John McCarroll for 8 Things You Need to Know Before Buying Cider. The article—which appears in the online culinary magazine Dirt—suggests opting for wine-like packaging, and focusing on the words used to describe the cider on the label rather than on the label's design.
2) Cidercraft editor Erin James indulges in The Guilty Pleasures of Cider and Junk Food.
3) "I don't know how someone can purchase apples from afar and call it 'their cider.' The location of the apple source should never be hidden. It's reprehensible to do so." The latest rant from Andy Brennan of Aaron Burr Cider is Again, Wine or Beer?
4) The cider results for Dan Berger's International Wine Competition—held May 10-11 in Santa Rosa, California—have been posted. Producers who earned Chairman's Award (Double Gold) status for their entries are Eden Specialty Ciders, Uncle John's Cider Mill, Common Cider Company, Foxcraft Hard Cider, Stevens Point Brewery (Ciderboys), Alpenfire Cider, Eve's Cidery, Reverend Nat's Hard Cider, and Ela Cider Co.
5) Cider Chat interviews Sam Reid of Willie Smith's in the Huon Valley of Tasmania. Willie Smith's Organic Cider (18 Varieties) was awarded Best in Show at the 2015 Australian Cider Awards.
6) "I intend to develop a centre of excellence for cider apple production in Somerset with a view to increasing knowledge and new techniques." Neil Macdonald shares his vision for English orchards in Cider apple growers told how to get better returns. (To hear more from Macdonald, listen to Episode 19 of Cider Chat.)
7) Cider aficionado Bill Bradshaw connects the dots between a 250-year-old limestone column in Somerset and cidermaking in Colonial America in The Cider Monument.
8) Springtime in the West Country is the traditional season for cider competitions. The latest results are for Farmhouse Cider at the Devon County Show.
9) On tap: The 43rd Annual Cambridge Beer Festival in England (with plenty of cider and perry on offer), Batlow CiderFest in New South Wales, and the inaugural Colorado Cider Week.
10) Along Came a Cider reviews Woodchuck's Day Chaser. The Cider Journal reviews William Tell Strawberry, William Tell Cherry, and William Tell Apple Mango Muscat from Cider Brothers. And Cider Steve reviews Broome Farm Blossom and Worley's Harvest Moon and Old Jollop Vintage.
Have a great weekend!
Eric