Here's a recap of the best cider news worth sharing: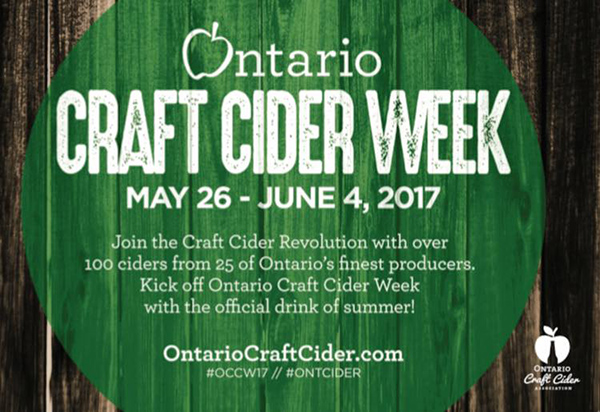 1) Ontario Craft Cider Week kicks off today across the Greater Toronto Area. Highlights of the week include the Appleseed Cider Festival, the Toronto Craft Cider Cruise, and special events at her father's cider bar + kitchen and Cider House.
2) "Farming is an exciting profession, if you thrive on uncertainty." Eve's Cidery captures the spring melodrama in Bloom: A Time of Wonder and Fear. (Another perspective on growing conditions is The 2016 vintage from Aaron Burr Cidery.)
3) Part 2 of Sustainability for the Cider Industry at Cider Culture focuses on printing, packaging, and the lifecycle of a bottle of cider.
4) Cider Chat interviews Stephanie & Aaron Carson of Gypsy Circus Cider Company in Kingsport, Tennessee.
5) Hit the Road: 5 Cider Destinations at Cidercraft should give you a few road trip ideas. For one more, try the newly-launched Salem Ale & Cider Trail in Oregon's Mid-Willamette Valley.
6) Cider Explorer shares some helpful tips on Where to drink/buy cider in Amsterdam.
7) The Japan Times reports that Dwindling apple growers see opportunities in hard cider. (Visit @billbradshaw on Instagram for recent photos of the Japanese cider scene.)
8) The World Cider Awards—with judging chaired by Gabe Cook—is accepting entries through June 2nd. Drink Outside The Grape—a competition for fruit wines, ciders, meads, and more—is accepting entries through August 1st.
9) The new ANXO Cidery & Tasting Room opens to the public on Saturday in Washington DC. Also on Saturday: ¡Sidra! ¡Sidra! ¡Sidra! at Reverend Nat's in Portland, Oregon and the Ethic Ciders' Launch Party in Petaluma, California.
10) Along Came a Cider reviews perries from Argus, Viuda de Angelón, and Cidrerie Daufresne in Very Perry May Pt. 4. Cider Says shares tasting notes from Schilling Cider House Visit 27 and reviews Eden Guinevere's Pearls and Crispin Bourbon Char. Cidercraft reviews C Squared Ella. The Cider Journal reviews Angry Orchard First Flora 2015 and Angry Orchard Oval Nouveau. drycider reviews Embark American Heirloom, Eve's Albee Hill, Eden Sparkling Dry, and Virtue Michigan Brut. CiderScene reviews Incline Cider The Scout Hopped Marionberry. Hard Cider Reviews tries Stem Ciders Remedy Dry Hopped. The Milled Apple reviews William Premium Hard Cider. Cider Society reviews Embark Old Marauder, Doc's Draft Cassis Black Currant, and Phonograph Cider Greening. The Cider Drinker reviews Garden Cider Original, Mates Eider Elderflower Cider, and Thatchers Stan's Barrel Roller and re-reviews Celtic Marches Abrahalls Dry. Cider Explorer reviews Thatchers Somerset Rosé, Kelterei Nöll Cox Orange, and Cydr Smykan Golden Delicjusz 2015. And Real Cider Reviews tries Steel Press Cider Brew Dry.
Have a great weekend!
Eric