All,
Here's a recap of the best cider news worth sharing: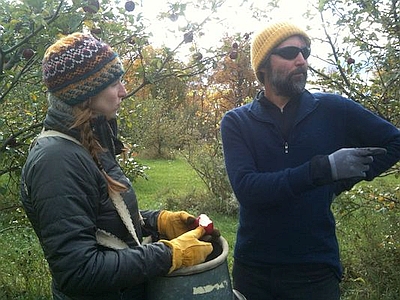 1) Steve Selin of South Hill Cider in the Finger Lakes brings the One of a Kind Orchard back to life.
2) The Independent celebrates Apple Day 2015 with their list of the 10 best British bottled ciders.
3) Somerset cidermaking legend Roger Wilkins of Wilkins Cider Farm in Mudgley puts the world straight on the cider tax and other issues in this 9-minute video.
4) Cider in Scotland? While many are familiar with Thistly Cross Cider, other small producers like Clyde Cider and Waulkmill Cider are also keen for recognition.
5) Grand Rapids eagerly awaits the new restaurant and production facility from rapidly growing Vander Mill.
6) Does cider need a great reference book? What Does It Take to Be a Great Wine Reference Book Today? by Jon Bonné lays out the challenges posed by the Internet era.
7) Lots of upcoming events at Reverend Nat's in Portland, Oregon including the latest Tent Show release and a Cider Made Simple launch party with author Jeff Alworth.
8) The inaugural BC Cider Week winds down in British Columbia, while the 4th annual Colorado Hard Cider Festival is held at Delicious Orchards in Hotchkiss.
9) Do you have your CiderDays tickets? Franklin County CiderDays in Massachusetts is the country's longest-running event that features hard cider. This year's celebration will be held on November 7th and 8th.
10) Tom Wark at The Cider Journal chats with Angry Orchard's Ryan Burk. And Meredith Collins at Along Came a Cider reviews Angry Orchard Stone Dry.
That's all. Have a great weekend!
Eric