Hello,
Here's a recap of the best cider news worth sharing: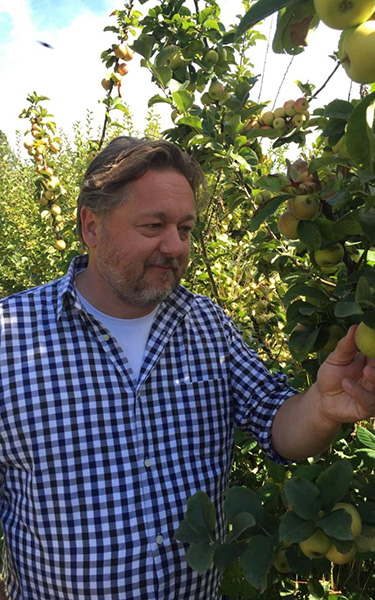 1) Pete Brown—co-author of World's Best Ciders—wants you to Say hello to The Apple Orchard. The Apple Orchard: The Story of Our Most English Fruit is available at Amazon.co.uk (now) and Amazon.com (October 25th). Learn more about the book in Brown's Apples: the forbidden fruit at the core of the human story, or follow along on his recent visit to the Thatchers Cider orchards.
2) "Perry is the epitome of British terroir – the taste of a specific piece of landscape and heritage." In Praise of Perry Pears is the latest reflection from The Ciderologist.
3) Freelance writer Jordan Kettley Werner spent the summer studying craft cider in Ireland. Her Cider in Ireland posts are an insightful look at the past, present, and future of the Irish cider industry.
4) USA Today lists its 10 great apple cider tasting rooms for a fall treat. Gothamist lists The 11 Best Hard Cider Bars & Restaurants In NYC. And Sip Northwest announces the cider and perry winners in its Best of the Northwest 2016.
5) Registration for CiderCon 2017 is now open. The conference will be held February 7-10 at the Hilton Chicago. A tentative schedule of workshop sessions and events is now available. (Meredith Collins and I join forces again to discuss building a strong online presence for your cider company.)
6) Cider Chat interviews Agathe Letellier of Manoir d'Apreval in the Pays d'Auge of Normandy.
7) Results for the 2016 Australian Cider Awards will soon be posted. Bill Bradshaw—the international cider expert for this year's awards—shares his thoughts upon sampling a bottle of POM Cider made in 1976 (!) by wine professional Gary Baldwin. The festivities conclude on Saturday with 100+ ciders to sample at the Australian Cider Festival in Melbourne.
8) On tap in Europe: The Big Apple – Harvestime in Herefordshire. La Fais'sie d'Cidre in Jersey. The opening weekend of Gijón de Sidra in Asturias. And Sicera 2016 in the Valle d'Aosta of Italy.
9) On tap in the US: The closing weekend of Cider Week Finger Lakes in New York. Heirloom Apple Day at Scott Farm in Dummerston, Vermont. CiderGrass at Stem Ciders in Denver. Cider Fest 2016 at Orondo Cider Works in Washington. The Gorge Cider Adventure in the Hood River Valley of Oregon. Bauman's Harvest Festival in Gervais, Oregon. And the Hard Core Cider Tour in Santa Cruz, California.
10) Cider Says reviews Wandering Aengus Wanderlust, Honeywood Winery Hard Apple Cider, Stem Ciders Branch and Bramble, and Hecks Somerset Tremletts Bitter. The Milled Apple reviews Angry Orchard Crisp Apple. Sipology reviews Uncle John's Atomic Apple. The Cider Blog reviews Ramborn Farmhouse Cider. The Cider Drinker reviews Dunkertons Perry, Kopparberg Mixed Fruit, and Henney's Autumn Gold. Cider Steve reviews Ross on Wye's The Broome Blend Cider. Cider Sense reviews Rich's Farmhouse Dry. And Real Cider Reviews tries Darkes Howler Cider.
Have a great weekend!
Eric