Hello,
Here's a recap of the best cider news worth sharing: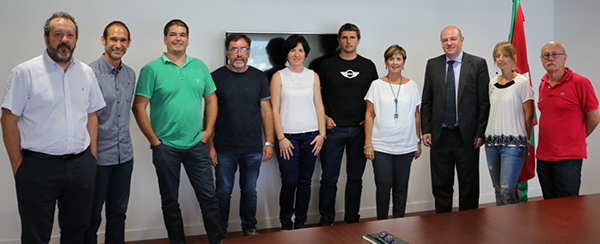 1) Cidermakers and apple growers from throughout the Basque Country have banded together to create a Protected Denomination of Origin for Basque ciders. The proposed designation—Euskal Sagardoa in Basque, Sidra Natural del País Vasco in Spanish—would apply to ciders that are made with 100% Basque apples and that meet a certain quality standard.
2) The next Oregon State University Craft Cidery Startup Workshop will be held November 7-11 in Portland. The instructors are Joel VandenBrink of Seattle Cider Company and Nick Gunn and James Kohn of Wandering Aengus Ciderworks.
3) A bumper crop of cidermaker profiles: Urban Tree Cidery in Atlanta; James Creek Ciderhouse in North Carolina; Kennebec Cider Company in Maine; Mad Moon Hard Cider in Columbus, Ohio; 1859 Cider Co. in Salem, Oregon; Hidden Star Orchards in California; and One Tree Hard Cider in Spokane.
4) Maddie LaKind writes for Make It Better on 8 Must-Try Midwest Ciders for Fall. The list includes producers from Michigan, Wisconsin, Iowa, and Illinois. And Spike Carter writes for Bloomberg on Ditch Your Craft Beer for These Eight Complex Ciders. The list includes ciders from West County, Farnum Hill, and Aaron Burr.
5) Cider Chat gears up for Franklin County CiderDays in Massachusetts with two recent episodes: Going to CiderDays and CiderDays 2016 Schedule. (Not mentioned is that Brian Rutzen of The Northman and Dan Pucci of Wassail are my special guests for Sunday morning's Cider Appreciation 101 guided tasting. Come join us!)
6) The National Association of Cider Makers has unveiled its new website. The association represents the interests of large-scale and small-scale cider producers throughout the UK. (NACM Communications Director Gabe Cook—better known as The Ciderologist—shares his personal thoughts on an inevitable cider revolution in From New World to Old – Innovation is Key for Cider.)
7) The Great Welsh Beer and Cider Festival is underway in Cardiff. As with most CAMRA festivals, the cider list features ciders and perries from local and regional cidermakers.
8) The inaugural Montana Cider Week—September 25 to October 1—will celebrate the state's craft ciders and orchards. Keep an eye on the BudWood Cooperative Facebook Page for updates.
9) Also on tap this weekend: Honey, I Fermented the Apples in Oxford, Connecticut, Palisade Cider Bash in Palisade, Colorado, and Cider Swig in Gig Harbor, Washington.
10) Along Came a Cider reviews Angry Orchard Walden Hollow. Cider Says reviews Stem Ciders Blood Orange Cyser, Stem Ciders Malice, Number 12 Black Currant Dry, Number 12 Sparkling Dry, and Number 12 Chestnut Semi-Dry. Drinking Cider reviews Starcut Ciders Phuzz. The Milled Apple reviews Blue Toad Blue Ridge Blonde. Sipology reviews Left Foot Charley Cinnamon Girl. Cider Society reviews Nine Pin The Idared, Nine Pin Blueberry, and Embark Craft Ciderworks The Pippin. The Cider Drinker video reviews Herefordshire Cider Company HCC Gold and Circle Cider's Cat's Tongue. Cider Steve reviews McCrindle's 2015 Vintage Cider. Cider Sense reviews Worley's Red Hen. And Real Cider Reviews tries Spreyton's Vintage Select 2016.
Have a great weekend!
Eric