Hello,
Here's a recap of the best cider news worth sharing: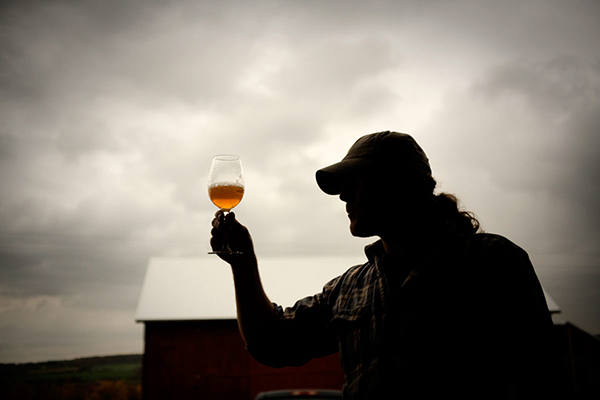 1) Cider Week Finger Lakes kicks off on Saturday. The region is perhaps best known for its aromatic Rieslings and Gewürztraminers, but the glacial soils in the Finger Lakes also produce intensely flavorful apples. Check out the schedule of events and read up on the region's excellent cidermakers.
2) Sofia Payson writes for Cider Culture on Biodynamic Cider: The Other Organic. The article features Eric Shatt (pictured above) and Deva Maas of Redbyrd Orchard Cider in the Finger Lakes. Also at Cider Culture: Holly Tennant writes the fourth installment of Women Making Waves in the Hard Cider World.
3) Mike Pomranz writes for Food & Wine on 10 Awesome American Ciders You Should Be Drinking. And Christian Conahan writes for Cidercraft on 5 Coffee-infused Ciders to Put a Pep in Your Step.
4) GQ tags along with Wayside Cider's Alex Wilson for an in-depth tutorial on How to Make Your Own Cider at Home. (While the books mentioned in the article are great, the well-illustrated Apples to Cider: How to Make Cider at Home is an excellent entry-level guide that features the collective wisdom of the Farnum Hill Ciders crew.)
5) Brazilian gypsy brewer André Junqueira has released three ciders made from apples grown in the mountainous Serra Gaúcha region. Épo Hop is dry hopped with Citra, Centennial, and Cascade; Épo Hibi features pineapple juice and hibiscus flowers; and Épo Ambu is aged on amburana (an indigenous wood used in cachaça production) and French oak. To learn more, visit Morada Cia Etílica on Facebook, or fire up Google Translate for a look at Épo: a primeira sidra (com 's' mesmo) artesanal brasileira.
6) Two new cider-themed restaurants in Europe: Pom Pom in Göteborg, Sweden and Le Sistrot in Quimper, Brittany. According to goteborg.com: "[Pom Pom] offers, in addition to quality cider, generous opening hours and a wallet-friendly menu including seafood, pizza bianca and steak tartare." And Le Sistrot—created by two brothers with a passion for good food and drink—is dedicated to guiding its patrons in their discovery of cider. Initial reviews for Le Sistrot are overwhelmingly positive, and Darlene Hayes called it "amazing" after a recent visit. (Also of interest: Cider Chat interviews Heleen Nobel and Eelco Huizinga of Appels en Peren, a cider and perry bottle shop in Amsterdam.)
7) Seattle Cider Company has been acquired by the French agricultural cooperative Agrial. Agrial's beverage division—known for its Ecusson, Loïc Raison, and Kérisac brands—is the largest cider producer in France. Seattle Cider will continue to operate independently and maintain control of its day-to-day operations.
8) How can changing the way apples are grown in the orchard result in more desirable cider? Cornell research points the way to better hard cider explains that smaller apples have a higher concentration of tannins, which lend desirable astringency and bitterness to fermented cider. (If orchards are too civilized for you, try Shacksbury Cider is saving apple varieties on the verge of disappearing forever from Tasting Table.)
9) On tap this weekend: Cider Fest at Embark Craft Ciderworks in Williamson, New York. Vander Fest at Vander Mill in Spring Lake, Michigan. Virtue Apple Fest at Virtue Cider in Fennville, Michigan. Milwaukee Cider Fest in Wisconsin. Vashon CiderFest in Vashon, Washington. The Rocky Mountain Cider Association Hard Cider Tasting at Cider Days in Lakewood, Colorado. And the closing weekend of Montana Cider Week.
10) Along Came a Cider reviews 1911's Founders Reserve Hopped Hard Cider. Cider Says shares tasting notes from a visit to Schilling Cider House and reviews Stem Ciders Remedy Dry Hopped, Rustic Roots Organic Snow Cider Dry Apple, Eden Heirloom Blend 2013 Apple Brandy Barrel Aged Ice Cider, and 2 Towns Nice & Naughty Imperial Spiced Cider. Drinking Cider reviews Cider Riot! Rudy's Cranberry Hibiscus Cider. The Milled Apple reviews Stowe Cider Tips Up. drycider reviews Oliver's Gold Rush #4. Cider Society reviews Aspall Perronelle's Blush English Cider, Cider Creek Premium Farmhouse, and Hecks Vintage Dry 2013 Cider. CiderScene reviews Hazlitt's Cider Tree with Citra Hops. The Cider Drinker shares his Orchard Box September Unboxing and reviews Turners Medium Cider. Cider Steve reviews BumbleBee Hard Cider. And Cider Sense reviews the Vintage, Farmhouse, and Heritage ciders from Cornish Orchards.
Have a great weekend!
Eric