[iframe_loader src="https://www.google.com/fusiontables/embedviz?q=select+col9+from+1my2k_g8tKTH7yYPYBXcwh5zJmaASkFS10zTS67k&viz=MAP&h=false&lat=38.247277558081784&lng=-78.20460546874999&z=7&t=4&l=col9&y=2&tmplt=2&hml=ONE_COL_LAT_LNG" height="360″ width="600″]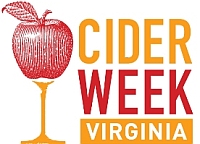 The second annual Cider Week Virginia kicks off today at locations across the commonwealth. If you live in Virginia, chances are you're familiar with where most of these events are taking place. If not, the map above should give you an idea of the growing number of events being held over the next 10 days. (If you're reading this in a feed reader or in your email, click through to the site to view and interact with the map.) I'm especially looking forward to the East/West Cider Smackdown at Albemarle CiderWorks on Friday the 22nd and the Cider Fest at Castle Hill Cider on Saturday the 23rd. The Richmond Cider Celebration on Saturday the 16th is another highlight, and numerous tastings, dinners, gallery openings, cidermaking workshops, and other fun events will be turning people on to cider throughout Cider Week.
If you're looking for me in the crowd next weekend, I'm in my mid-30s, bald, glasses, salt-and-pepper beard, roughly 6 feet tall, and accompanied by my beautiful wife and two-and-a-half month old son!