[This post is by my wife, Melissa, who rarely travels to cider events due to other commitments. Keep an eye out for future posts from Melissa and other guest authors! — Eric]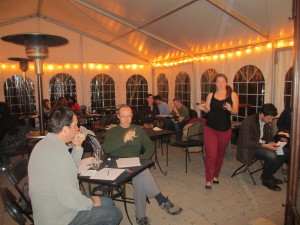 My husband and I were too busy to travel to any Cider Week Virginia events in 2012, so there was no way we were missing out this year. We packed the whole family up—newborn son included—and headed to Charlottesville. We carpooled with Eric's friend Ben, a National-level BJCP judge who proved to have quite a knack for pacifier re-insertion.
Our crew arrived a few minutes late for the sold-out East/West Cider Smackdown at Albermarle CiderWorks, held on Friday, November 22nd. But we arrived just in time to hear tasting room manager Anne Shelton explain how the good fight was going to go down. Twelve ciders—six from the West Coast, six from the East Coast—would be the contenders. We were given a tasting wheel and a note-taking sheet, and then set free to taste each cider at our own pace. The twist? Each bottle of cider was wrapped in brown paper and labeled with a three-digit number so that we wouldn't know the cider's true identity. Of course, Eric was saying "I bet this is a Foggy Ridge," and so forth, but I was truly blind.
This was the most fun with cider I have ever had. I couldn't believe my good luck! I got to taste 12 different ciders and rate them against each other, without actually having to buy 12 bottles of cider. (Even most of the Virginia ciders aren't yet available in the Blacksburg, Virginia area we call home.) Courtney Mailey of Blue Bee Cider and Stuart Madany of Castle Hill Cider were also in the crowd, taking advantage of this rare blind tasting opportunity. Diane Flynt of Foggy Ridge Cider was absent, but some of her tasting room staff were there helping Albermarle's staff pour the ciders.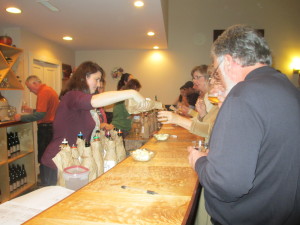 Tasting so many ciders led me to realize that I have quite a wide palate in terms of what I like to drink—from dry to sweet. It also led me to realize that even though the cider resurgence is still in its infancy, there's a lot of promise in what is out there. Out of the twelve, there was only one I wouldn't drink, and given the strong, musty smell, it may have been a bad bottle or batch.
Of course, twelve ciders is an awful lot to taste, and especially given that I was limiting my sipping (remember the baby?), it was hard to keep each one straight. I wasn't the only one with this problem: another woman leaned in to share notes with our little group, and I saw by the time she had gotten to the bottom of her sheet, she had written "I like it!" instead of the detailed aroma and taste notes she had at the top. One way to mitigate this would be to have a slightly more tutored tasting, perhaps regrouping two or three times during the evening to discuss. (Anne would later tell us that Tom Burford and Chris Lehault led the ceremonies in 2012.) As it was, it was a free for all until the end, when we were able to cast our tickets for our favorites.
I cast both of my tickets for a bright, full-bodied cider with a heady aroma that I couldn't get enough of. When Anne called its number out as the winner, there was an immediate uproar of people wanting to know the name behind the number.
The top five vote getters were:
Snowdrift Cider Co. — Cliffbreaks Blend (Washington)
Blue Bee Cider — Aragon 1904 (Virginia)
Foggy Ridge Cider — First Fruit (Virginia)
Whitewood Cider Co. — Old Fangled (Washington)
Tieton Cider Works — Tieton Blend (Washington)
The remaining seven ciders were, in alphabetical order: Albemarle Ciderworks Ragged Mountain, Alpenfire Ember, Castle Hill Celestial, Dragon's Head Cider Manchurian, Finnriver Artisan Sparkling, Old Hill Yesteryear, and Potter's Craft Cider Farmhouse Dry.
The West had beat out the East with three of the top five ciders. Snowdrift is one of the premier American cidermakers (in Eric's opinion) and Cliffbreaks Blend is his favorite cider of theirs, so it wasn't surprising that it finished on top. (Snowdrift now ships to 43 states if you'd like to try it.)
How I wish I had the chance to taste them all again, knowing the name of each, so I could associate a taste with the name! It's hard to keep twelve different ciders straight using three-digit numbers! Ah, well. One interesting thing that I didn't realize until I had a chance to look at the results was that the Smackdown wasn't just an East/West competition. All of the East ciders were from Virginia, and all of the West ciders were from Washington state. Virginia didn't stack up too poorly, and I was pleased to see our closest cidery, Foggy Ridge, was among the top three!
The cider tasting was fun, but the night wasn't over yet. Because Ben is an avid cyclist with the metabolism of a teenager, we then sought out Milan Indian Cuisine and feasted on some scrumptious Indian food. Afterwards, we crashed at the nearby Super 8, resting up for Saturday's Cider Fest at Castle Hill.