Franklin County CiderDays in Massachusetts—held the first weekend in November—is now celebrating its 20th edition. What began as a humble harvest celebration by West County Cider is now a New England-wide celebration of orchards, apples, sweet cider, and hard cider.
CiderDays 2014 will be held October 31st to November 2nd. Many events are free and open to the public, but some events are ticketed and other events require a $5 tasting glass to fully drink in the experience. Tickets for ticketed events are available online and I suggest you snap yours up quickly! There's also a Facebook page where you can follow the latest updates.
If you are attending CiderDays, please be warned that the venues are spread across the entire county. Be sure you know the drive time from Point A to Point B! That way you'll avoid rushing around and you won't pick up an unwanted speeding ticket. If you're using a smartphone for navigation, I'm not sure that you'll always get signal. I have the locations pre-loaded on a GPS device just in case. Make sure someone stays sober enough to drive safely!
And speaking of West County Cider, it's definitely worth a brief visit. West County is the first modern commercial cider producer in the US, and they continue to make interesting ciders. I particularly enjoy their rosé cider, made with the red-fleshed Redfield variety. They don't give tours or let you wander through the production area, but it is possible to purchase 750ml bottles of cider at a reasonable price. I've always visited West County in the morning, but I've heard that Morris dancers often perform later in the day.
What follows is a preview of the workshops and tastings that most interest me. There are more events scheduled during the weekend than any one person could possibly attend, so please visit the CiderDays site for an up-to-date listing and decide what most interests you!
SATURDAY
10:00-11:00
Fruit Exploring
John Bunker & Rowan Jacobsen
Apex Orchards, Shelburne
John Bunker is one of the country's premier apple experts. He is the founder of Fedco Trees, co-owner of the Out on a Limb Heritage Apple CSA, and driving force behind the Maine Heritage Orchard. Rowan Jacobsen is one of the country's premier food writers. His work often focuses on the diversity and sustainability of our food systems. His first book—A Geography of Oysters—was a James Beard Award winner, and his most recent book—Apples of Uncommon Character—is a beautiful look at our most revered and unique apple varieties.
These two first linked up when Rowan wrote an excellent article about John in the March/April 2013 issue of Mother Jones. Based on the title of the talk, my guess is that it will be about collecting fruit from the trees of friends, neighbors, and abandoned properties, identifying the variety when possible, assessing the overall characteristics of the apple, and then putting the fruit to its best possible use. If so, this talk would be welcomed by amateur cidermakers, many of whom get their start this way. I highly recommend this one!
---
All Day
Marketplace and Author Signings
Shelburne Buckland Community Center, Shelburne Falls
The marketplace at Shelburne Buckland Community Center is not to be missed. In particular, keep an eye out for Scott Farms and other orchards that bring a wide variety of heirloom apples, quince, and other fruit to sample and purchase.
While you're there, stop by the author table and chat with the wonderful people who have shared their expertise about apples and cider with us. Here's a list of the latest books from each author, with a link to the book on Amazon where applicable:
---
3:00-4:30 and 5:15-6:45
Cider Salon I and II
Shelburne Buckland Community Center, Shelburne Falls
Advance Ticket Price: $25/session
The highlight of CiderDays for hard cider enthusiasts. The salons are held in a large covered tent outside the community center. Unlike many tasting festivals, there are no drink tokens or tickets to be purchased; you are welcome to try as many samples as you can reasonably consume during the session. Both sessions were sold out in advance last year, making it a bit difficult to move around inside the crowded tent. I'd recommend buying tickets for both sessions so you have plenty of time to try everything on your checklist. Ben Watson organizes the Cider Salon each year and vets the participants, so expect quality offerings at every table!
---
Evening
Franklin County Food & Drink
While tickets to the fantastic CiderDays Harvest Supper are already sold out, many area restaurants are serving up fixed-price meals, cocktails, and other delights featuring apples and cider. Of these, the dinner at MRKT Restaurant in Greenfield is the most ambitious. Chef Josean Jimenez is offering two sittings of a four-course dinner, at 5PM and 8PM. Each course is paired with an appropriate cider from West County.
---
SUNDAY
Daylight Saving Time ends early Sunday morning. Don't forget to "fall back" an hour!
10:00-11:00
Apples for Juice and Cider
Claude Jolicoeur & Alan Surprenant
Brook Farm Orchard, Ashfield
[This talk has been moved to Bear Swamp Orchard. Thanks to Steve Gougeon for the update.]
Alan is the orchardist at Brook Farm, caring for a hundred or so apple trees that were planted in 1990 on Antonovka rootstock. During my 2011 visit for a similar workshop, I was fascinated at how Alan had aggressively pruned the trees to keep them at a reasonable height, quite unlike what you'd expect to see in a standard orchard. Claude and Alan were offering fresh-pressed juice to attendees as they arrived in 2011, quite a warm welcome!
Most experienced cidermakers have an intuitive sense of what characteristics to look for, but are there ways to quantify what you want in a quality juice blend? Are factors like Brix, pH, total acidity, and tannin important? If so, how do you measure them? Claude did a similar talk with John Bunker last year that was really good, and I imagine this talk will also be very enlightening.
---
11:30-12:30
So You Want to Be a Commercial Cidermaker
Steve Gougeon and Andy Brennan
Bear Swamp Orchard, Ashfield
I have no plans to become a commercial cidermaker, though many cider enthusiasts do dream of "going pro" someday. If that's you, then you'll want to drive out for this session! Steve is the orchardist/cidermaker at Bear Swamp in Ashfield and Andy is the orchardist/cidermaker at Aaron Burr in New York's Hudson Valley. Both gentlemen have adopted a traditional farmstead approach to cidermaking: Steve uses his own organic apples and doesn't employ commercial yeasts, while Andy's flagship ciders are made with foraged apples. Andy in particular is very outspoken about his reverence for "true cider." So these guys are passionate about their craft and have deliberately chosen to take the high road with regard to producing quality ciders.
---
12:45-1:45
British Cider Tasting and Discussion
Tom Oliver
Deerfield Community Center, Deerfield
Tom Oliver is a legend in the cidermaking and perrymaking community. This event is already sold out, and for good reason. (If you'd like to learn more about Tom, check out Episode 1 of the Cider Guide Podcast.) My guess is that we'll be sampling cider and perry from the Shelton Brothers portfolio, whose stable of English producers includes Burrow Hill, Henney's, Hogan's, Oliver's, and Ross-on-Wye. Those offerings are not imported in any great quantity, so this is a tasting that I am very much looking forward to.
---
2:15-3:15
Apples to Juice to Cider
John Bunker and Steve Wood
Deerfield Community Center, Deerfield
Advance Ticket Price: $20
Who knows what will happen when these two legends share the stage? I wouldn't miss it for anything! Steve is the visionary behind Farnum Hill Ciders and is an expert on the topic of growing apples for cidermaking. He has also contributed to an upcoming book on making sweet cider and hard cider at home called Apples to Cider.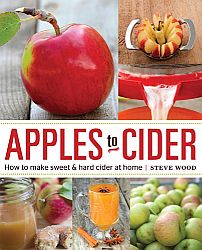 ---
3:45-5:00
Cider and Cheese Pairing
Provisions (Northampton)
Deerfield Community Center, Deerfield
Advance Ticket Price: $25
Reading The Atlas of American Artisan Cheese a few years ago really opened my eyes to the hundreds of small-scale cheese operations that are thriving around the country. I'm definitely a novice when it comes to cheese, but I do love fermented foods of all sorts and I'm always interested to learn more about pairing cider with various foods, so this should be an informative session worth attending.