On my recent trip through New England and Quebec I arranged to meet with Andy Calimano, an event organizer and promoter based on Long Island, New York. Andy's company Starfish Junction Productions has recently begun organizing cider tasting festivals in Philadelphia and on Long Island called Pour The Core. Andy also publishes Hard Cider News, a monthly online newsletter that summarizes important happenings from the world of cider. We met for lunch on the North Shore of Long Island as I was driving east to catch the Cross Sound Ferry to Connecticut.
Andy got into the event promotion business purely by accident. While studying in an entrepreneurship program at NYU, he volunteered to help put on a beer festival that turned out to be a financial disaster. Undeterred by the initial failure, he helped organize a second festival mostly just to recoup the losses from the original event, and the rest is history. There were a few detours along the way into events like scrapbooking that were ultimately dead ends, but Andy has narrowed his focus exclusively on the beverage industry: beer, wine, tea and coffee, and now cider.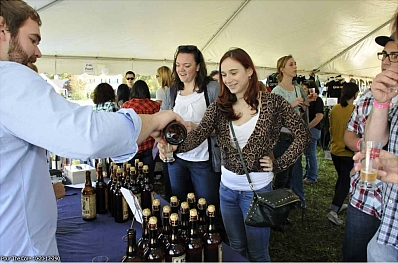 The first Pour The Core festival was held on October 20, 2012 at Peconic Bay Winery on the North Shore of Long Island. Andy recognized the potential in cider but was cautious with regards to attendance at the initial festival, hoping more just to see what did and didn't work at a cider festival. But much to his surprise, the event sold out and was a huge success. (I would later speak with Jim Silver—business manager at Peconic Bay Winery—who estimated that attendance at the first Pour The Core was close to 1,000, with women outnumbering men.) Admission to the event was $40 and included an unlimited number of two-ounce pours and access to seminars on cider mixology, cooking with cider, and making your own cider at home. Alan from Corks, Caps & Taps posted a recap of his experience complete with brief tasting notes.

For 2013, Pour The Core is expanding to a second location at The Navy Yard in Philadelphia to be held on September 28th. The Long Island edition will be held the following Saturday—October 5th—again at Peconic Bay Winery in Cutchogue on the North Fork. The offerings include fewer local cider producers than what you'd see at the Cider Summits, though it's impossible to deny the appeal of any festival that celebrates all things cider! Here's a tentative listing of the cider brands that will be available at each Pour The Core:
Philadelphia and Long Island
Doc's Draft
McKenzie's
Michelob Ultra Light Cider
Stella Artois Cidre
Strongbow
Woodchuck
Philadelphia Only (full listing)
Ace
Anthem
Aspall
Blackthorn
Ciderboys
Crispin
Domaine Dupont
Fox Barrel
Frecon's Cidery
JK Scrumpy's
Original Sin
Spire Mountain
Long Island Only (full listing)
Angry Orchard
Curious Traveler Shandy
Downeast
Harpoon
Hornsby's
Kopparberg
Magners
Samuel Smith's
Standard Cider Company (True Believer & True Companion)
Virtue
Tickets for both events are available online at http://www.pourthecore.com/. Pour The Core also has a Facebook page at https://www.facebook.com/PourTheCore. Learn more about Starfish Junction Productions at http://www.starfishjunction.com/ and be sure to sign up for the monthly newsletter from Hard Cider News at http://www.hardcidernews.com/.