Hello,
Here's a recap of the best cider news worth sharing: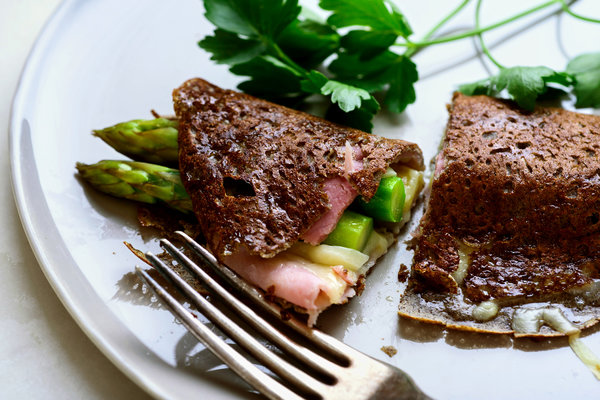 1) Not sure what food to serve with Breton cider? Start with this Buckwheat Crepes With Asparagus, Ham and Gruyère Recipe from the New York Times. Then try these recipes from the Terre de Cidre blog of the Association Cidricole Bretonne.
2) Christopher Hughes writes for Boston Magazine on The Best Hard Ciders in New England.
3) Vander Mill celebrates the opening of its new taproom, restaurant, and production facility in Grand Rapids. Learn more about Vander Mill—one of the country's largest craft cider producers—in the Life's Simple Pleasures promotional video. And read more on their grand opening from MiBiz and MLive.
4) The 11th Annual Great Lakes International Cider and Perry Competition will be held this weekend in Grand Rapids. Over 1,000 entries have been registered for this year's judging. Best of Show results will be announced on Sunday afternoon; full results will be posted online on Friday, April 29th.
5) Cider Chat interviews Aaron Anderson of Austin Eastciders. The company was founded in 2011 by Ed Gibson, former owner of The Apple cider pub in Bristol, England.
6) Wines In Niagara shares its Ontario In-Cider Report with reviews of ciders from Twin Pines Orchard & Cider House, Sulker's Cider, and West Avenue Cider.
7) A mutant hop that works incredibly well for hopped cider? Read more about The Mystery of "Hop X" from Ontario's Clear Valley Hops.
8) The 3rd Annual Hopped Cider Fest at Reverend Nat's in Portland features 30+ hopped ciders from across the Pacific Northwest. In addition to the many exclusive festival-only ciders, Reverend Nat's flagship Hallelujah Hopricot—one of the few American ciders to be featured in World's Best Ciders—will also be poured.
9) Also this weekend: the 3rd Annual Cider Summit San Francisco and the Tag des Mostes in Austria's Mostviertel region.
10) Along Came a Cider reviews Cornish Orchards Vintage 2013. Cider Says shares tasting notes from a flight at Schilling Cider House, attends an Apple Outlaw cider tasting,
and reviews Snow Capped Cider 6130′ Dry, William Tell Dry Hard Apple Cider and William Tell Dry Hard Apple Cider with Pinot Grigio from Cider Brothers, and Alpenfire Glow. The Milled Apple reviews Downeast Cider House Summer Blend and Rekorderlig Spiced Hard Cider. Cider Steve reviews Ciderniks Combe Raider and Worcestershire Wobble Juice Dry Farmhouse Cider. And CiderSail reviews Oliver's Classic Perry.
Have a great weekend! Maybe I'll see you in Grand Rapids?
Eric