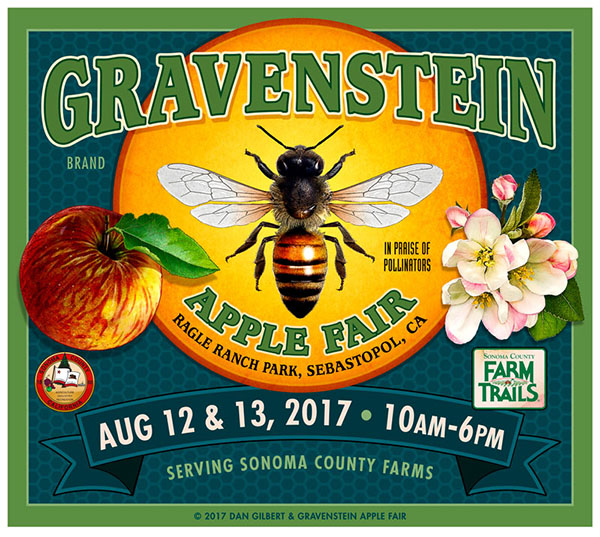 1) The 44th Annual Gravenstein Apple Fair in Sonoma County will feature products from 15 local cidermakers. See The Word on Cider: Getting Funky at the Apple Fair for more.
2) Erin James of Cidercraft shares tips on Picking the Perfect Cider for Any Occasion. (Buy her book Tasting Cider for more pairing ideas.)
3) Meredith Collins of Along Came a Cider writes for Cider Culture on Ciders Pushing the Envelope.
4) Get your fill of cider at these five Midwest spots is a well-chosen list by Josh Noel of the Chicago Tribune.
5) "We have to start raising our kids on dry cider and they will be able to taste terroir." Autumn Stoscheck of Eve's Cidery in the Finger Lakes is this week's guest on Cider Chat.
6) Cider on the Rocks in 1787 is an early cider-over-ice reference discovered by Mark Turdo of Pommel Cyder.
7) The First Annual CIDERCRAFT Magazine Awards is open to commercial cidermakers in the US and Canada. Winners will be announced in the December issue. Entry registration is also open for the Mendocino Apple Show International Cider Competition and the California Cider Competition.
8) The annual Apfelweinfestival opens today in Frankfurt. And in London, the Great British Beer Festival is pouring cider and perry at two bars—The Scratter and The Panking Pole.
9) The 3rd Annual St. Cloud Ciderfest takes place on Saturday in Minnesota.
10) Along Came a Cider reviews Embark The Crab Series Vol. 1. Cider Says reviews Pear UP Raspeary, Reverend Nat's Sacrilege Sour Cherry, and Finnegan Harvest Blend. Cidercraft reviews Virtue Cider Seedling Orchard with Apricots 2015. CiderScene previews the Meadful Things and Outciders Festival and reviews Red Tank Happy Cider. Hard Cider Reviews tries Snow Capped Cider Molly's Prickly Pear and Jester & Judge Pineapple Express. The Milled Apple reviews Far From the Tree Cider Maker Series: Erik and Graft Desert Diamonds Gose Cider. Cider Society reviews Slim Pickens Ananas Pineapple Cider, Jack's Hard Cider Original, and Embark Tart Cherry Barrel Aged. The Cider Drinker reviews Mates Goldeneye. Cider Explorer reviews Vin-Kon Cydr Bursztynowy, Döhne Apfelschaumwein Brut 2013, and De Vergeten Appel Stam 2015. And Real Cider Reviews tries McCarthy's Orchard Apple Cider.
Have a great weekend!
Eric