Hello,
Here's a recap of the best cider news worth sharing: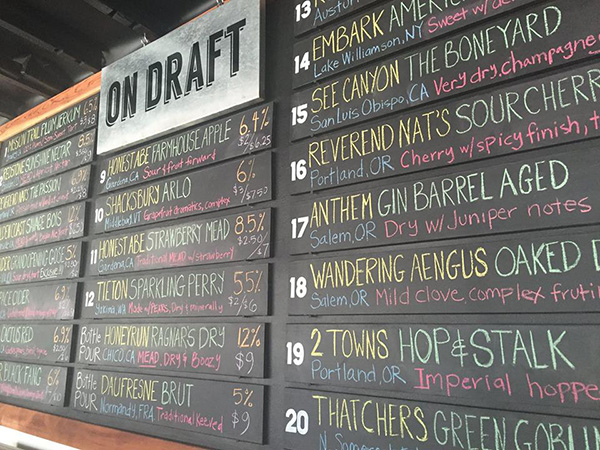 1) Great Society Cider & Mead in Long Beach, California opens to great fanfare. Once you've checked out their cider list and food menu, read more about the new cider pub from the Long Beach Post, L.A. Weekly, and the Long Beach Press Telegram.
2) Portland Cider Company announces plans to produce a "community cider" that will benefit Oregon Wild, a leading conservation organization. Learn more about the PDX Community Apple Drive and how to contribute your backyard apples to the cause.
3) Michael Agnew writes for the Star Tribune on Looking for hard cider? New crop of Minnesota flavors reaches market. Mentioned in the article are Milk & Honey Ciders, Number 12 Cider House, Keepsake Cidery, and Sapsucker Farms' Yellow Belly Hard Cider. (For more on Milk & Honey, check out Hard Cider Is Booming In Popularity, And A Cold Spring Orchard Is Leading The Way.)
4) Orchardist and fruit explorer Eliza Greenman sees watercore in apples as a feature, not a bug. Learn more in watercore: a natural additive for hard cider in the south. (Hear more from Eliza in An Apple Quest – Gravy Episode 43).
5) Cider Chat interviews Emily Ritchie, Executive Director of the Northwest Cider Association.
6) Cider Says attended Summer Cider Day last weekend in Port Townsend, Washington. She recaps the important details in The Event and shares her Tasting Notes in a well-photographed separate post.
7) Join the crew at Wassail on Saturday for Single Tree Ciders with Awestruck. Casey Vitti and Patti Wilcox from Awestruck Ciders will be on hand to unveil these limited releases.
8) The Gravenstein Apple Fair will be held this weekend in Sebastopol, California. See who's pouring in the Craft Cider Tent and learn more about local producers in Hard cider production on the rise in Sonoma County.
9) Also on tap is the opening weekend of the annual Apfelweinfestival in Frankfurt, Germany.
10) Along Came a Cider reviews Seattle Cider Company Basil Mint. Cider Says shares tasting notes from a flight at Schilling Cider House and reviews Pacory Cidre Le Costaud and Possmann Frankfurter Applewine. themilledapple reviews Potter's Craft Cidery Sorachi Ace, Castle Hill Celestial, and Mayador Natural Cider. drycider reviews Eden Cinderella's Slipper, Black Cap Dry Cider, and Crooked Halo Genesis. And The Cider Drinker video reviews Turners Elderflower, Celtic Marches Thundering Molly, and Healey's Pear Rattler.
Have a great weekend!
Eric