Hello,
Here's a recap of the best cider news worth sharing: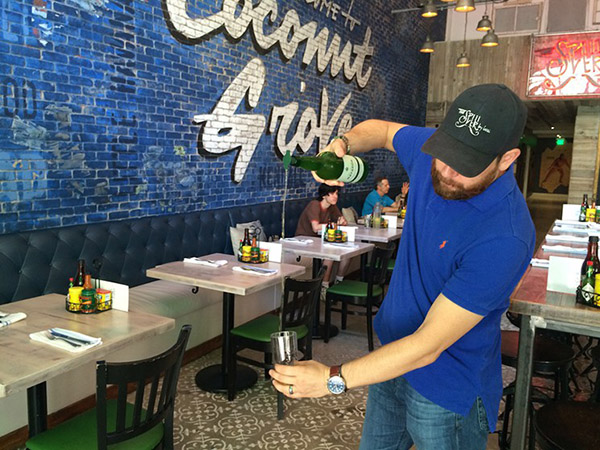 1) "The goal is to educate Miami on a category of an amazing drink that hasn't been represented properly." Matt Kuscher's new restaurant—The Spillover—pairs sustainable seafood with quality cider. Based on the dozens of glowing Yelp reviews, the concept is a hit. Read more from the Miami New Times in Coconut Grove's The Spillover Has Enough Cider and Mead to Swim In.
2) The new issue of Cidercraft Magazine should reach your mailbox (or inbox!) soon. My educational feature Cider's Sweet Spot: The Balancing Act Between Cider and Sugar begins on Page 64. Visit cidercraftmag.com/subscribe to subscribe to the print or digital edition.
3) Adrienne So writes for Slate on Why artisanal hard cider-makers hate the sweet stuff sold in six-packs. Quoted in the article are Autumn Stoscheck of Eve's Cidery, Melissa Madden of Good Life Cider, Nat West of Reverend Nat's Hard Cider, and Kevin Zielinski of E.Z. Orchards. (If the 200 comments at Slate and 50 comments at Reddit are any indication, this topic elicits strong emotions.)
4) Boise State University in Idaho will offer The Business of Craft Cider course on October 17-21. The course—which is led by Dr. Chris Blanchard of Longdrop Cider—will allow students to experience a working orchard and cidery and to learn about recipe and fermentation processes, strategic planning, and the sourcing needs required to start and run a successful cidery.
5) Cider Chat interviews Colin Davis of Shacksbury, the Portland Beer Podcast interviews Abram Goldman-Armstrong of Cider Riot!, and Beer Sessions Radio chats with the crews from Millstone and ANXO.
6) The Herefordshire cider community pays tribute to Ivor Dunkerton, who has died at the age of 83. Dunkertons Cider was founded in 1980 with a commitment to organic fruit and traditional cidermaking methods. The company will continue under the ownership of Ivor's son Julian, and their ciders and perries will soon be available in the US. For more on Dunkertons, read the Adam and Eve chapter of James Crowden's excellent book Ciderland.
7) The Cider Link is an online craft cider marketplace where Australian cider drinkers can purchase cider directly from Australian cidermakers. Visit Shipping to learn more about the process, and Makers for detailed interviews with the participating cidermakers.
8) The second annual Toronto Cider Festival takes place on Saturday. The inaugural Rigtig Cider event takes place on Sunday as part of the Copenhagen Cooking & Food Festival. And coming to a close this weekend are the Fiesta de la Sidra Natural in Gijón, Asturias and Tokyo Cider Week in Japan.
9) On tap in the US: Cider Dayze at Blake's Hard Cider in Armada, Michigan and the Cider Circus at Copper Mountain Resort in Frisco, Colorado.
10) Along Came a Cider reviews Lyme Bay Cider Company's Jack Ratt Vintage Dry. Drinking Cider reviews Woodchuck Gumption, Angry Orchard The Old Fashioned, William Premium Hard Cider, Baladin Sidro, Stem Ciders Malice, and Far From The Tree Nova. Cider Says reviews Alpenfire Calypso – Blackberry Rum Barrel Aged Cider, Le Brun Organic Cidre, Magners Original Irish Cider, and Reverend Nat's ¡Tepache!. The Milled Apple reviews Bold Rock Peach Cider, Foggy Ridge Handmade, and Blacksmiths Winery Fatty Bampkins. The Cider Drinker video reviews Rich's Golden Years Lambrook Pippin. And Real Cider Reviews tries Small Acres Appscato.
Have a great weekend!
Eric