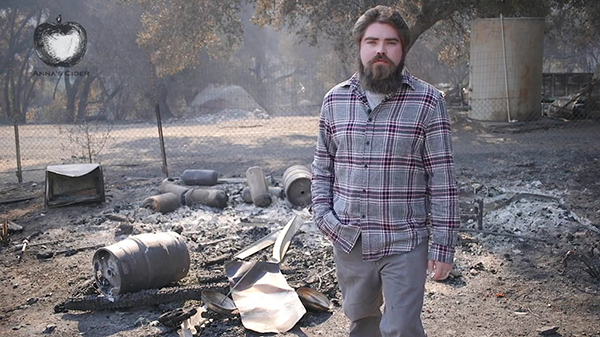 1) Anna's Cider of Ventura County, California launches an Indiegogo campaign to fund the reconstruction of its production facility after it was completely destroyed by the Thomas Fire.
2) Brooklyn Cider House opens its cidery, restaurant, and tasting room to the public. See Here's New York City's New Hard-Cider Headquarters from Grub Street for details.
3) Meredith Collins' latest Craft Cider Round Up for Cider Culture is Different Apples.
4) Cidercraft recommends 5 Chai Spiced Ciders for Winter.
5) Cider Chat interviews the owners of The Cider Junction in Building San Jose with Cider.
6) "That's the thing that I think we really excel at—making a traditional English farmhouse-style cider." Abram Goldman-Armstrong talks with Cidercraft in British-Influence, Northwest-Made Ciders at Cider Riot!
7) Good Beer Hunting visits Herefordshire to interview Tom Oliver. Oliver's Cider & Perry—which recently released its ANXO collaboration Ocle Pychard—is featured in Shelton Brothers' newsletter Please, sir, I want some cider!
8) Cider Culture reports on Mixed Metaphor—a co-fermented "table beer with Vermont apples" produced by Brooklyn's Threes Brewing with Shacksbury. And Collective Arts Brewing of Ontario collaborates with Graft Cider of New York on a Blackberry & Cherry Dreamsicle Cider.
9) Cider Soms recommend ciders from Eden, Prima, and Mission Trail in Sparkling Ciders for The Holidays.
10) Along Came a Cider reviews Sea Cider Pippins. Cider Says reviews Slopeswell Mystrale, Alpenfire Ember, and Virtue Cider Michigan Brut. Cidercraft reviews the Cider-Grown New England Combo Pack. CiderScene reviews Honest Abe Pineapple and Citizen Cider Ms. & Mr. Burlington. The Milled Apple reviews Cider-Grown Maker's Combo and Portland Cider Company Apple. Cider Society reviews Graft Cider Golden Tides, Alter Ego The Guardian Angel, and Reverend Nat's The Passion. The Cider Drinker reviews Marks & Spencer Cider, Brännland Iscider 2015, and Perry's Cider Puffin. And Cider Explorer reviews Gutshof Kraatz Wilde Kerle 2016 and Zeffer Apple Crumble.
Have a great weekend!
Eric