Hello,
Here's a recap of the best cider news worth sharing: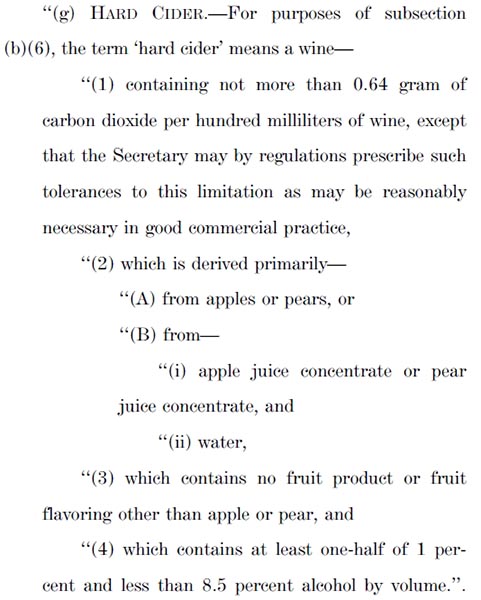 1) The federal definition of hard cider is amended to allow for higher carbonation levels, higher alcohol content, and the inclusion of pears and pear concentrate. The change will take effect on January 1, 2017. See Wyden, Blumenauer Win Battle for Cidermakers for more on how the CIDER Act will promote the continued growth of the US cider industry.
2) Early registration has been extended for Cider Conference 2016 through January 3rd. The interactive event listing reveals a British Invasion of presenters including Tom Oliver of Oliver's Cider & Perry, Neil Macdonald of Orchard Pig, Barry Butterfield of Sandford Orchards, Julian Temperley of Somerset Cider Brandy Company and Burrow Hill Cider, Neil Worley of Worley's Cider, and author/photographer Bill Bradshaw. (And keep an eye out for a Portland appearance by Scrumpy & Western stars The Skimmity Hitchers.)
3) Immediately following CiderCon will be the first-ever course offering of USACM's Cider Certification Program. Neither USACM membership nor CiderCon attendance is required to participate. See Cider Certification Program Hires Interim Director for more details. (Don't worry…I'll still make time for the weekly newsletter!)
4) The Cyder Market releases its latest USA Cider Maker Survey loaded with industry statistics.
5) The love keeps pouring in for Wassail's innovative vegetarian cuisine and extensive cider selection. See the latest praise from Eater, the Village Voice, AM New York, DRiNK Magazine, and the New York Times.
6) Two more cider bars are set to open in early 2016: Mullers Cider House in Rochester, New York and Lost Valley Cider Co. in Milwaukee, Wisconsin.
7) USA Today tours the Port Townsend Cider Route and The Bulletin heads out on an epic Bend-to-Wenatchee cider road trip.
8) NPR's The Salt talks with Joan Morgan about "peak pear" and what sets pears apart from apples and other tree fruits in A Love Letter To A Once Pre-Eminent Fruit. Morgan is the author of The Book of Pears: The Definitive History and Guide to Over 500 Varieties. The book's companion website includes photos of hundreds of pear varieties from around the world.
9) Shelton Brothers—best known as an importer of distinctive European beers—also has a growing cider portfolio. See their latest newsletter for featured ciders from Finnegan Cider in Oregon, Les Vergers de la Colline in Quebec, and Carr's Ciderhouse in Massachusetts.
10) Along Came a Cider reviews Barrel Rye from Good Life Cider and Roundabout Batch #4 from Sweetland Orchard. Cider Says reviews Grizzly Brand Bourbon Barrel Aged Cider from Big B's, Asian Pear Perry 2013 – Chojuro Blend from Nashi Orchards, and a six-cider flight from Schilling Cider House. Real Cider Reviews praises Dry Cider from Henney's. Cider Soms share their mulled cider recipe and Association Cidricole Bretonne shares its Le cidre de Noël recipe par le chef anglais Jamie Oliver. And Cider Chat interviews Margo Sanderse of Het Ciderhuis.
Merry Christmas!
Eric