Hello,
Here's a recap of the best cider news worth sharing: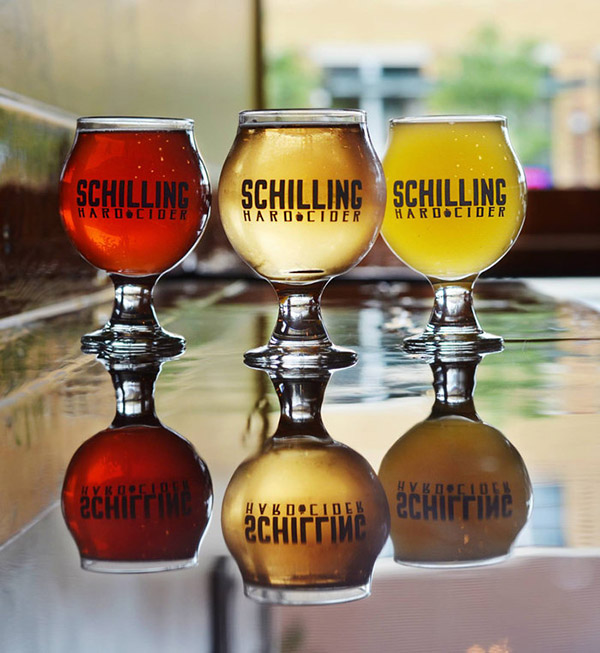 1) Schilling Will Open Portland Cider House With the Biggest Taplist in the United States reports Willamette Week. More details in Schilling Cider House Opening New Location in Portland's Goat Blocks from New School Beer. (Colin Schilling will present at CiderCon on Why You Should Open a Cider Bar Instead of a Cidery. Should be interesting.)
2) Cider Culture lists its Top Cider Gifts to Give in 2016 and Cidercraft shares its Ciderized Holiday Gift Guide: Part 1.
3) The latest post at the newly-launched Cidernomics blog is Economies of scale, cider style.
4) VinePair poses a rhetorical question: Should Cider Have a Vintage? Eleanor Leger of Eden Specialty Ciders succinctly answers it: "Whatever the rules around wine are, I would take them. Just let me do it with apples." (For more discussion, see Is it Time For Vintage Dated Hard Cider? and Time To Allow Use of Harvest Dates on Cider Labels from The Cider Journal.)
5) Civil Eats asks Where Have All the Apples Gone and Can These Farmers Bring Them Back? The article focuses on the Temperate Orchard Conservancy's role in preserving Nick Botner's 4,500-variety heirloom apple collection in Oregon.
6) "OMG, DID THIS GUY TURN A DESSERT APPLE INTO A CIDER APPLE BY GRAFTING IT ONTO A CRAB ROOTSTOCK?" The latest from Eliza Greenman is Rootstocks: Do they impact flavor? (If you're in the Mid-Atlantic and want to sharpen your pruning and grafting skills, consider attending one of her Workshops.)
7) Sheridan Smith writes for Cidercraft on South Hill's Wild and Vintage Apple Ciders.
8) Cider Chat releases Part 2 of an interview with Eric Bordelet. Bordelet's ciders and perries are highly prized the world over. In case you missed it, here's Part 1.
9) Daniel Haykin wins Best of Show at this year's Franklin County CiderDays Amateur Cider Competition. William Grote (First Runner Up and Second Runner Up) and Jeff Carlson (Honorable Mention) also earned awards.
10) Along Came a Cider reviews Stormalong Legendary Dry. Cider Says reviews Scandi Pear Cider, Angry Orchard + Eden Specialty Ciders Understood in Motion 01, and 2 Towns Return of the Mack. The Milled Apple reviews Stoneybrook Bourbon Barrel Aged, Embark Craft Ciderworks The Northerner, and Angry Orchard Easy Apple. drycider reviews Pony Shack Fifer's Chance. Cider Society reviews Scar of the Sea Dry Hopped, Nine Pin Blueberry Peach Cobbler, and Embark Craft Ciderworks American Heirloom. Simple Cider Reviews tries Bull Run Bramble Berry, Swift Marionberry, and Sea Cider Kings & Spies. CiderScene reviews Blake's Archimedes and the 33 Books Original Cider Tasting Mug. The Cider Drinker reviews Himachal Premium Indian Cider. And Real Cider Reviews tries The Cidery Sweet Rosie.
Have a great weekend!
Eric