Hello,
Here's a recap of the best cider news worth sharing: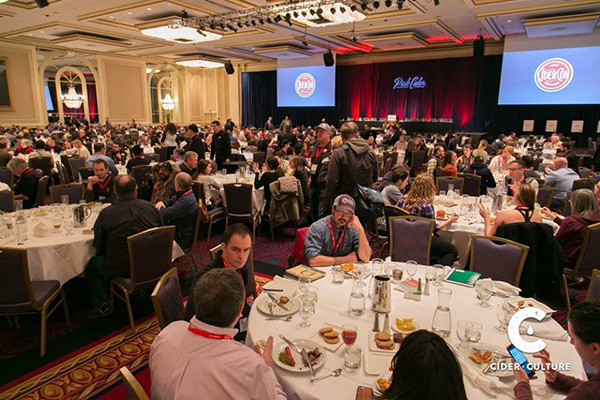 1) Last week's CiderCon in Chicago was a unanimous success! Along Came a Cider posts An Industry Growing Up, the first in a series. DRAFT Magazine has Five cider statistic takeaways from CiderCon 2017. Cider Chat interviews 20 cider enthusiasts at The Northman. And Good Beer Hunting shares an E.Z. Orchards + Angry Orchard Dinner vignette.
2) The United States Association of Cider Makers—the non-profit group that organizes CiderCon—elected new board members Eric Foster (Stem), Marcus Robert (Tieton), Brian Shanks (Bold Rock), and Dan Young (Tandem) to join current members Trevor Baker (Noble), Ryan Burk (Angry Orchard), Ben Calvi (Vermont Hard Cider), Eleanor Leger (Eden), Bruce Nissen (Jester & Judge), Paul Vander Heide (Vander Mill), and Dan Wilson (Slyboro). USACM also announced its annual awards, which Cider Culture recaps in Congratulations to CiderCon 2017 Award Winners!
3) "How can you size up a hard cider before the first sip?" CIDRBOX wants you to Know your hard cider. CIDRBOX now offers an inexpensive set of Cider Sensory Analysis Flashcards, and 33 Books Co. has released a Golden Russet Special Edition of its popular Cider Tasting Journal.
4) Sip Northwest chats with Molly Leadbetter of Meriwether Cider in Boise, Idaho. The San Diego Reader rejoices that More rain means more Calico Cider in Julian, California. And Big World, Small Girl shares her guide to the growing Austin Cider Scene.
5) Good Fruit Grower reports on Michigan State's cider variety trials—which include research on red-fleshed apples for rosé ciders—in Hard cider secrets. Of related interest: the March shipment from the DoubleCider subscription service includes Snowdrift Red (GLINTCAP 2016 Silver Medal).
6) Mike Biltonen explains in The Ecosystem Orchard — A New Orchard Aesthetic how cider apples can restore balance, health, diversity, and a sense of wonder to small farms.
7) Brock University's Cool Climate Oenology and Viticulture Institute—in conjunction with The Cider Institute of North America—will offer Cider and Perry Production – A Foundation at its St. Catharines, Ontario campus from April 24-28.
8) Upcoming judgings with cider categories include the Finger Lakes International Wine Competition, the WineMaker International Amateur Wine Competition, the San Diego International Beer Festival Competition, and the Great Lakes International Cider and Perry Competition (registration opens soon!).
9) Nine Pin Cider hosts the 3rd Annual Gathering of the Farm Cideries on Saturday. The Daily Gazette's Craft cider producers to gather in Albany has the details.
10) Cider Says previews Portland's Cider Rite of Spring and reviews Oregon Mead & Cider Co. Free Press Dry and Devoto Orchards 1976 Semi-Dry. The Milled Apple reviews Embark Craft Ciderworks The Pippin and Far From The Tree Bog. Cider Society reviews Stem Ciders Branch and Bramble and Ratel Dry Hopped. Simple Cider Reviews tries Nashi Orchards Barrel Fermented Cider, Snowdrift Orchard Select, Woodchuck Summertime, and Craigies Ballyhook Flyer 2013. Cider Soms share tasting notes from the Ciders of the Northeast tasting at CiderCon. CiderScene reviews the DoubleCider Subscription Box for January. And Real Cider Reviews tries Kalangadoo Cider The Cide Project.
Have a great weekend!
Eric