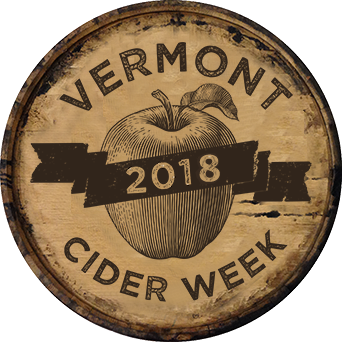 1) Vermont Cider Week opens this weekend and runs through Sunday, March 4th. Check out the full list of events and participating cidermakers.
2) Imbibe explores cider apples, terroir, single-variety ciders, and wild fermentation in Cidermakers Tap into Tradition and the companion piece 5 to Try: Heritage Ciders.
3) Cider Like Wine explores packaging options in It's My Cider In A Box!
4) Cider Chat posts US Commercial Cider Makers by the Numbers – A "Community" Perspective—a video recording of the presentation delivered by Dale Brown of Cyder Market at CiderCon 2018.
5) "It is indeed bad to eat Apples. It is better to make them all into Cyder." In Remarks on the Cyder Remarks in Franklin's Remarks Concerning the Savages of North America, Pommel Cyder provides historical context for the well-known quote.
6) Acreage Brings Cider and Wood-Fired Fare to a Hilltop in Lafayette according to Eater Denver. The restaurant—which opens to the public on Saturday—is the first phase in Stem Ciders' plans to develop their 12-acre property.
7) Three profiles of growing cidermakers: Ridge Cider (Michigan), Ash & Elm Cider (Indianapolis), and Old Hill Cider (Virginia).
8) Online registration is open for the Royal Bath & West International Cider Competition. Entry fees are waived for entries produced outside the UK. See the rules and regulations and style guidelines for full details.
9) Blue Bee Cider announces In Plain Sight: An Awareness Dinner on behalf of The Human Trafficking Institute. The pairing dinner—prepared by James Beard-nominated Brittanny Anderson and featuring ciders from women in the Virginia cider industry—takes place on Wednesday, March 21 in Richmond.
10) Along Came a Cider recaps the Gathering of the New York Farm Cideries. Cider Says reviews 2 Towns Pacific Pineapple. Cidercraft reviews Graft Cider Hop Tropic. CiderScene reviews Portland Cider Concord Grape and the Cider-Grown New England 4-Pack. The Milled Apple reviews Graft Cider Hop Tropic. Cider Society reviews Savanna Dry and Graft + Slim Pickens Banana Them All To Hell! The Cider Drinker reviews Old Jollop With A Twist and Tempted Irish Cider Dry. And Cider Explorer reviews Les Vergers de Ducy / Domaine de la Flaguerie Cidre Brut, Gutshof Kraatz Adams Parmäne 2016, and MacIvors Traditional Dry.
Have a great weekend!
Eric