Hello,
Here's a recap of the best cider news worth sharing: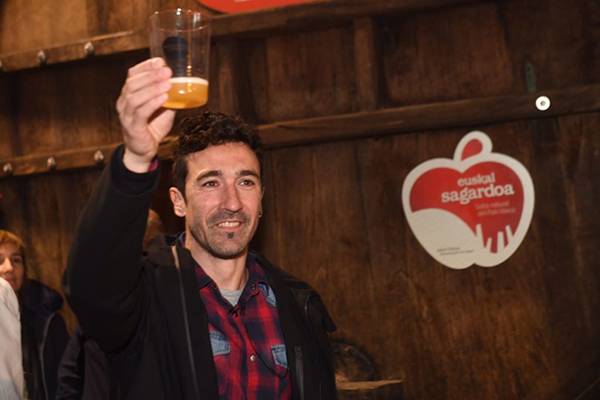 1) The txotx season in the Basque Country has opened. Roughly 12% of the cider produced from the 2016 harvest will qualify for the new Denominación de Origen known as Euskal Sagardoa / Sidra Natural del País Vasco. Follow Euskal Sagardoa on Facebook, Instagram, and Twitter to learn more.
2) In Cider Australia, Bill Bradshaw looks back upon—and shares dozens of photographs from—his September/October visit to Australia.
3) Gabe Cook—aka The Ciderologist—extols the virtues of dry English ciders in #DryJanuary.
4) Modern Farmer wants you to Meet Dr. Gregory Peck, the Grand Pomologist of Hard Cider.
5) The NC F&B Podcast interviews Mattie Beason of Black Twig Cider House in Durham, North Carolina. And Cider Chat interviews Alvar Roosimaa of Jaanihanso in Estonia.
6) The Story of Starting a Cidery from Cider Culture is the first in a three-part series featuring Hale & True Cider Co. from Philadelphia.
7) The latest post at Cidernomics is Selling Cider: The Real, Rural Catch-22. (For more on the rural/urban divide, check out Charts 10 and 11 in The Cyder Market's recent Cider Maker Survey.)
8) ANXO teams up with Shacksbury for Collaboration #5 and Farnum Hill for Collaboaration #6. See ANXO Releases DC's First Canned Cider from Cider Culture for details on #5 and ANXO's Collaborations page for details on both #5 and #6.
9) Chicago Cider Week events will kick off at The Northman on February 3rd, hit their stride during CiderCon on February 7th-10th, and conclude with Cider Summit Chicago on February 11th at Navy Pier.
10) Along Came a Cider reviews Embark Craft Ciderworks American Hopped. Cider Says reviews Tilted Shed Smoked and L'Hermitiére Cidre Brut. The Milled Apple reviews Citizen Cidre Bourgeois and Ciderboys First Press. Cidercraft reviews Dukes Cider Dry Apple. Simple Cider Reviews tries Domaine du Verger Rosé, Cockrell Valley Red, Snowdrift Cornice, Montana CiderWorks North Fork Traditional, Finnriver Oak & Apple, Magners Original, Finnriver Cranberry Rosehip, and Swift Wholesome Apple. Cider Society reviews Descendant Wilderness, Brooklyn Cider House Still Bone Dry, and Doc's Draft Gold Rush. CiderScene reviews Lionheart Cider. The Cider Drinker reviews Oldfields Worcester Cider. And Real Cider Reviews tries Grand Ridge Brewery Twisted Sister.
Have a great weekend!
Eric