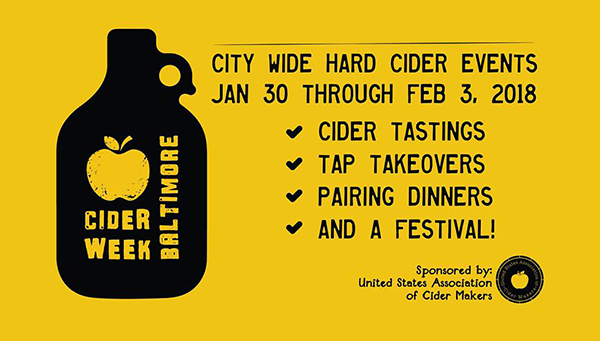 1) Anticipation builds for Cider Week Baltimore, to be held in conjunction with CiderCon. ANXO is organizing an impressive slate of events at hotspots across the city, and the popular Pour the Core festival visits Baltimore for the first time. Learn more in the Cider Chat episode Maryland's Got Pommes – CiderCon2018.
2) Cidercraft is Talking Tannic Apples with Nancy Bishop of Alpenfire Cider.
3) A look at the incredible family that built iconic cider brand celebrates the extraordinary history of Aspall.
4) Shoal Hope Ciderworks on the tip of Cape Cod is raising funds for its 2018 fermentations. And Anna's Cider in Ventura County continues to raise funds after its production facility was destroyed by last month's Thomas Fire.
5) Cider Culture helps you Get to Know Western Cider in Missoula, Montana. Eater San Diego wants you to Behold North Park's New Bivouac Ciderworks. Food Tank wants you to Meet the Minneapolis Cider Maker Tackling Food Waste by Crowdsourcing His Apples. The Pueblo (Colorado) Chieftain reports that Penrose craft brewer to roll out 1st batch of hard cider. And the Dallas Observer reports that A New Cidery In Deep Ellum Plans to Lure In Drinkers With Not-So-Sweet Craft Ciders.
6) Sip Northwest lists six Urban Cidery Taprooms to Visit Now. And the Detroit Free Press reports that the Blake's Hard Cider tasting room is now open year-round.
7) Virtue Cider shares recipes from its recent Stone Fence Cider Cocktail Competition. The Grand Prize winning Fancy Cider Cocktail includes aged cachaça, rum, lemon juice, mulled apple syrup, and allspice bitters.
8) Cornelius Pass Roadhouse in Hillsboro, Oregon will host a Wassail Cider Fest on Saturday that includes ciders from across the Pacific Northwest.
9) The Good Food Awards will announce its 2018 Winners at a ceremony in San Francisco this evening. 17 cidermakers have previously qualified as 2018 Finalists.
10) Along Came a Cider reviews Aspall Grand Cru. Cider Says reviews Strongbow Limited Edition Minis, Art+Science Symbiosis, and Liberty Ciderworks Porter's Perfection. CiderScene looks at Craft Cider in Canada and reviews Artifact Cider Project Feels Like Home. Hard Cider Reviews tries Anthem Hops. The Milled Apple reviews Portland Cider Company Sangria and Embark Old Marauder. Cider Society reviews Cidrerie du Vulcain La Transparente, Downeast Roasted Joe, and Graft Cider Caverns of the Ancients. The Cider Drinker reviews Dunkertons Court Royal. And Cider Explorer samples 3 Danish Ciders and reviews Trabanco Lagar de Camin and St Pauls Sacrifice​.
Have a great weekend!
Eric